Abstract: PB2022
Type: Publication Only
Background
Multiple myeloma is the second most common hematological cancer worldwide. MM evolves from a clinically premalignant stage designated monoclonal gammopathy of undetermined significance (MGUS). Although it is still considered an incurable disease, MM might be controlled for long periods of time with treatment protocols delivered as regimens. Median age at diagnosis of MM is approximately 66–70 years, with 37% of patients being younger than 65 years of age. The 2016 Global Burden of Disease Study reported 138.509 incident cases of MM worldwide and 98.437 deaths. The therapeutic approach to MM is guided by eligibility to autologous stem cell transplantation (ASCT). Treatment was markedly improved with the availability of agents approved in the last 15 years, leading patients with MM to improvements in 5- to 10-year survival rates.
Aims

This study analyzes Multiple Myeloma (MM) epidemiology regarding incidence, prevalence, mortality and current pharmaceutical treatment pattern of MM patients followed in the Portuguese National Healthcare System (NHS).
Methods
Developed by Portuguese Group of Multiple Myeloma, this study determined the prevalence and incidence of MM in Portugal, based on the number of MM patients that generated hospital production and the number of naïve patients with MM drug consumptions as the 1st line therapy, respectively. European Cancer Information System provided data on MM-related hospital mortality. Regarding the current pharmaceutical treatment pattern of MM patients of the National Healthcare System (NHS), the study analyzed patient dynamics by examining drugs/regimens consumption of therapeutic molecules with indication in MM in each line of treatment, their duration and sequence lines.
Results

MM has an incidence of 7,8/100.000 in Portugal, with a median age at diagnosis of 69 years old. Analyzing the NHS hospital Diagnosis Related Group (DRG), it was possible to identify 1.941 patients with a diagnosis of MM, accruing to a prevalence of 18,9/100.000 in 2018. In Portugal, MM is more prevalent in men (54%) affecting more the elderly: 58% of patients were 70 years old or more, and only 9% were younger than 55 years old. MM mortality rate is considered as 6,9/100.000. The estimated median age at death was 75 years according to the European Cancer Information System.
Regarding MM treatment, for the past 5 years, while bortezomib, cyclophosphamide, and dexamethasone (VCD) was the most frequently used first-line regimen, lenalidomide-dexamethasone (RD) and thalidomide-dexamethasone (TD) captured most patients proceeding to subsequent therapy lines, as shown in Figure [1]. The first line of treatment (LOT) had a median duration of 7,0 months (95% CI:6,6 – 7,4). Second LOT was 6,0 months (95% CI: 5,4 – 6,6), while the treatment regarding third or later LOT was 7,0 months (95% CI: 5,6 – 8,4).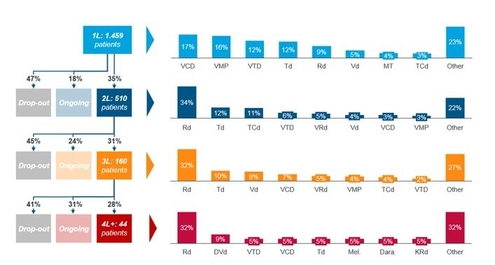 Conclusion

Current MM prevalence is expected to increase since incidence is higher than mortality and new pharmacological treatments have been reshaping the market and the treatment landscape. The analysis of treatment patterns showed that practice in Portuguese NHS hospitals reflects international clinical practice guidelines. It is crucial to recognize country-specific disease epidemiology and to develop real-world data regarding current treatment patterns in order to support improved patient care in MM.
Session topic: 14. Myeloma and other monoclonal gammopathies - Clinical
Keyword(s): Mortality, Multiple myeloma, Prevalence, Treatment