Abstract: PB1965
Type: Publication Only
Background
Philadelphia chromosome (Ph) results from the reciprocal translocation t(9;22) and is a hallmark for chronic myelogenous leukemia (CML). Ph gives rise to the fusion BCR-ABL ocogene and oncoprotein with enhanced tyrosine kinase activity. BCR-ABL mRNA transcripts are usually tested in order to confirm CML diagnosis and to monitor minimal residual disease (MRD). Rare variants of BCR-ABL may be underreported as a result of failure of some PCR primer sets to anneal to BCR and ABL sequences around of unusual breakpoints. False negative PCR results may hinder or delay CML diagnosis and result in misleading MRD assessment. Clinical peculiarities of CML with rare BCR-ABL transcripts still need to be thoroughly described.                
Aims
To report two novel cases of CML pts with rare BCR-ABL mRNA transcripts. 
Methods
Total RNA was extracted from peripheral blood (PB) and bone marrow (BM) samples of CML pts. cDNA was developed with random hexamer primers. Both quantitative RQ PCR and qualitative conventional PCR were performed. Products of conventional PCR were detected and purified by means of polyacrylamide gel electrophoresis. PCR products were directly sequenced and analysed.    
Results

We report here two cases of CML pts with unusual BCR-ABL mRNA transcripts. First pt was 60 yo male with CML manifested in the March 2016 when he had suffered from a pain in the left hypochondrium as a result of splenomegaly (130x60x160 mm). At that moment in BM there were 48% blasts and 7% myelocytes. Standard kariotype analysis revealed 80% of Ph-positive cells. Local lab failed to find BCR-ABL mRNA expression. This pt had been receiving 400 mg/d of imatinib for 3 years. In the May 2019 MRT investigation found out a soft tissue tumor bulk (57x26x50 mm) within the body of L1 vertebra as well as multiple tumor loci within the chest, lower back vertebrae and pelvic bones. FISH analisys showed 1% of Ph in BM, tumor biopsy was Ph-positive. In our lab PB and BM samples were tested and we have found expression of a rare type of the e6a2 BCR-ABL mRNA (Fig.1). Due to imatinib resistance the treatment was modified for 400-600 mg/d of nilotinib. It helped to reduce the size of the tumor in the L1 vertebra to 12x18x32 mm. The other pt was 32 yo female in whom we found out previously unreported variant of the b2a2 BCR-ABL mRNA transcript. The 48 bp of the 3'-part of the b2 BCR exon in BCR-ABL transcript was deleted and reading frame was broken. However, the reading frame had been restored by insertion of 12 bp GGAGAGGCCTAA that were originated from 1b intron (Fig.2). Common RQ PCR primer set was not able to amplify this new variant of BCR-ABL transcript and showed false negative result. Successful RQ PCR for this pt was performed by replacing direct b2 BCR exon primer for another one which anneals within b1 BCR exon. BM cells of this pt had complicated kariotype of 46,XХ,t(2;3;7;10)(q13;q21;p15;q22),t(7;13)(q36;q13),t(9;22)(q34;q11)[20].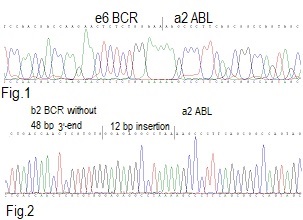 Conclusion
Two new cases of CML pts with rare BCR-ABL transcripts were described. It is for the first time that in CMP pt with e6a2 BCR-ABL transcript intra L1 vertebra extramedullary imatinib resustant Ph-positive tumor was found. Novel b2a2 BCR-ABL transcript variant was discovered with 48 bp deletion/12 bp insertion of b2 exon. Our data suggest that structural variants of BCR-ABL transcripts may greatly influence CML clinical course and also hinder and complicate establishment of correct diagnosis.          
Session topic: 08. Chronic myeloid leukemia - Clinical
Keyword(s): BCR-ABL, Chronic myeloid leukemia, Gene expression