Abstract: S334
Type: Oral Presentation
Session title: Integrating the patient's voice in hematology
Background
Effective AML maintenance treatment (Tx) should decrease the risk of relapse and prolong survival without compromising health-related quality of life (HRQoL). In the phase III randomized, double-blind, placebo (PBO)-controlled QUAZAR AML-001 trial, CC-486, an oral hypomethylating agent, provided significant improvements in overall survival (OS) and relapse-free survival (RFS) in patients (pts) with AML in first remission following IC. Here we present pt-reported HRQoL outcomes from QUAZAR AML-001.
Aims
Determine the effects of CC-486 vs. PBO maintenance Tx on HRQoL in the QUAZAR AML-001 trial.
Methods
Pts were aged ≥55 yrs, had intermediate- or poor-risk cytogenetics and ECOG PS ≤3, achieved complete remission (CR) or CR with incomplete hematologic recovery (CRi) after IC ± consolidation, and were not candidates for transplant. Pts were randomized 1:1 to CC-486 300mg or PBO QD for 14 days (d) per 28d Tx cycle. HRQoL was assessed using the FACIT-Fatigue and EQ-5D-3L questionnaires, completed on d1 of each cycle and at end of Tx (EOT). Assessed were Tx differences in mean changes from baseline (BL) and proportions of pts with clinically meaningful changes from BL (improvement, no change, deterioration) by FACIT-Fatigue scale and EQ-5D-3L health utility index (HUI) scores. Clinically meaningful improvement or worsening (increasing scores indicate improvement) was defined as a change from BL of ≥3 points on the FACIT-Fatigue scale, and of +0.08 point (improvement) or –0.10 point (worsening) on the EQ-5D-3L HUI. Evaluable pts had an HRQoL assessment at BL and ≥1 post-BL visit. Stratified ANCOVA models included Tx and BL scores as covariates.
Results
The HRQoL evaluable population comprised 225/238 pts (95%) in the CC-486 arm and 219/234 pts (94%) in the PBO arm. Pt characteristics were comparable between Tx arms. Most pts (61%) were 65–74 yrs of age. Median number of CC-486 Tx cycles was 12 and PBO cycles was 7. Compliance rates were >95% at BL and remained high (>85%) at all post-BL visits except for EOT. At BL, pts in CR/CRi in both Tx arms had comparable low levels of fatigue and generally good HRQoL. Overall mean [±SD] BL FACIT-Fatigue score was 40.8 [±8.4], similar to that of the US general population (43.6 [±9.4]; Cella, J Pain Symptom Manage, 2002) and of an age- and gender-matched German general population (43.2; Montan, Value Health, 2018). Pts also had generally good HRQoL at BL based on mean EQ-5D-3L HUI score (0.80 [±0.12]), which was comparable to a reference HUI value from the US general population aged 65–74 yrs (0.76).
No clinically meaningful differences occurred between CC-486 and PBO in mean changes from BL in FACIT-Fatigue scores at any post-BL visit (Figure). Significant differences in EQ-5D-3L HUI scores between Tx arms at cycles 22 and 23 were not clinically meaningful and likely due to chance (no adjustment was made for multiplicity of testing) (Figure). There was no statistically significant difference between Tx arms in proportion of pts with a clinically meaningful deterioration in FACIT-Fatigue score post-BL except at cycle 29 (again, likely due to chance), or on the EQ-5D-3L at any visit. No significant differences were observed between CC-486 and PBO in median times to deterioration in FACIT-Fatigue scores (41 vs. 44 weeks, respectively; P=0.70) or on the EQ-5D HUI (200 vs. 164 weeks; P=0.63).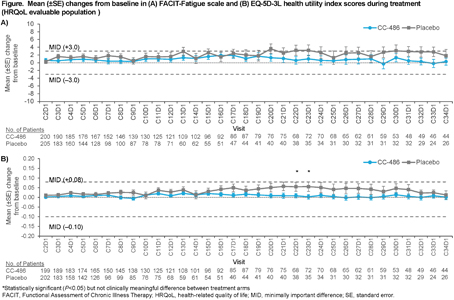 Conclusion
Favorable HRQoL and low levels of fatigue at BL were preserved with CC-486 maintenance Tx. CC-486 significantly improved OS and RFS while maintaining HRQoL comparable to PBO.
Session topic: 35. Quality of life, palliative & supportive care, ethics and health economics
Keyword(s): Acute myeloid leukemia, Azacitidine, Maintenance, Quality of life