Abstract: S332
Type: Oral Presentation
Session title: Integrating the patient's voice in hematology
Background
Proteasome inhibitor (PI)-based therapy is a standard of care for non-transplant-eligible MM patients (pts). Long-term treatment is associated with improved outcomes; however, it can be challenging to achieve in the RW using available parenteral options. With the aim of increasing PI-based treatment adherence/duration while maintaining quality of life (QoL) & further improving outcomes, the US MM-6 RW study (NCT03173092) is investigating the in-class transition (iCT) from parenteral btz-based induction to all-oral ixa-based therapy (ixa-lenalidomide [len] -dexamethasone [dex]; IRd) in the diverse United States (US) community population. 
Aims
We report updated efficacy, safety, actigraphy, medication adherence & QoL data for the first 84 US MM-6 pts.
Methods
Pts with newly diagnosed, transplant-ineligible/transplant delayed (>24 months) MM & ≥ stable disease after 3 cycles of btz-based induction are being enrolled at 21 community sites (including Veterans Affairs hospitals) to receive IRd (ixa 4 mg, days 1, 8, 15; len 25 mg, days 1-21; dex 40 mg [20 mg in pts aged >75 yrs], days 1, 8, 15, 22) for up to 26 x 28-day cycles or until progression/toxicity. Pts use mobile & digital devices to collect actigraphy (activity/sleep) data, complete QoL (EORTC-QLQ-C30 & QLQ-MY20) & treatment satisfaction (TSQM-9) questionnaires, & self-report medication adherence. The primary endpoint is progression-free survival (PFS); key secondary endpoints include: partial, very good partial, & complete response (PR, VGPR & CR) rates, & duration of therapy.
Results
As of Nov 18 2019, 84 pts had been treated (median age 73 [range 49–90] yrs; 44% aged ≥75 yrs; 49% male; 15% black/African American; 10% Hispanic/Latino; 35% with International Staging System stage III disease; 42% with lytic bone disease). Comorbidities included hypertension (57%), anemia (44%), fatigue (43%), renal/urinary disorders (40%), cardiac disorders (30%), insomnia (30%), & peripheral neuropathy (13%). The most common btz-based induction regimen at the time of iCT to IRd was btz-Rd (85%). With 62% of pts still on therapy & enrollment ongoing: mean duration of PI therapy from the start of btz-based induction was 10.1 months; mean duration of IRd was 7.3 months; pts had received up to 25 cycles of IRd. Overall response rate (ORR) after btz-based induction was 62% (CR, 4%; VGPR, 25%; PR, 33%). After iCT to IRd, ORR increased to 70% with CR and VGPR rates increasing to 26% and 29%, respectively; the PR rate decreased to 15%. With median follow-up of 8 months, 6 pts had progressed & there were 2 on-study deaths. The 12-mo PFS rate was 86% (95% CI, 73–93) both from the start of btz-based induction & from the start of IRd. During IRd treatment, 92% of pts had treatment-emergent adverse events (TEAEs) (48% grade [G] ≥3). G3 TEAEs (≥5% of pts) were diarrhea (7%), pneumonia (6%), syncope (6%), & anemia (5%). TEAEs led to study drug discontinuation in 7% of pts; 36% had serious TEAEs. Ixa/len/dex dose was adjusted due to AEs in 39%/39%/29% of pts. Pt-reported medication adherence (previous 4 weeks; cycles 1–5) was 'excellent'/'very good' in ≥78% of pts reporting adherence. QoL & treatment satisfaction were maintained in pts completing questionnaires. Actigraphy data showed normal activity levels & sleep durations. (Figure)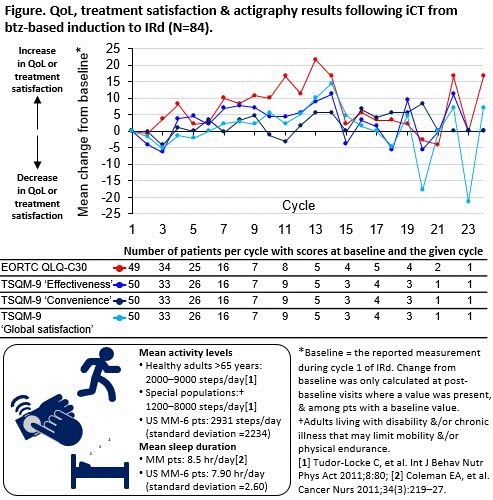 Conclusion
US MM-6 pts are representative of the RW US MM population; the current data show that iCT to an oral PI may permit prolonged PI-based therapy with promising efficacy & without impacting pts' QoL or treatment satisfaction.
Session topic: 35. Quality of life, palliative & supportive care, ethics and health economics
Keyword(s): Clinical trial, Multiple myeloma, Proteasome inhibitor