Abstract: S331
Type: Oral Presentation
Session title: Integrating the patient's voice in hematology
Background
Myelodysplastic syndromes (MDS) are in the majority of cases characterized by anemia. Both anemia and MDS per se may contribute to impairments in health-related quality of life (HRQoL), often observed in patients with MDS. In MDS, the focus of treatment is often on improving HRQoL by interventions intended to increase hemoglobin (Hb) levels. However, studies do not convincingly show that such interventions have a beneficial causal effect on HRQoL.
Aims
In this study, we aimed to investigate the anemia-independent impact of lower-risk MDS on HRQoL.
Methods
We used data from two cohorts, i.e. the Lifelines cohort, a large population-based study of community-dwelling individuals living in the Netherlands, and the EUMDS Registry, a prospective cohort with lower-risk MDS patients from 17 European countries and Israel. In both cohorts, individuals ≥50 years were included. Individuals who received a blood transfusion 30 days before the blood sample was taken were excluded. In accordance with the WHO criteria, anemia was defined as Hb <13 g/dL in men and <12 g/dL in women. HRQoL was assessed with the SF-36 in Lifelines and EQ-5D-3L in the EUMDS cohort. To enable comparisons between the two different HRQoL scores, SF-36 data were converted to EQ-5D index scores (a higher score reflects a better HRQoL) and five EQ-5D dimension scores (moderate/severe problems in a specific dimension). Multivariable linear and logistic regression analyses were used to examine the anemia-independent impact of MDS on HRQoL. First, a crude analysis was performed (MDS, model 1). Model 2 was additionally adjusted for the confounders age, sex, comorbidity and prior blood transfusions. Lastly, in model 3, we additionally controlled for the mediator anemia and Hb level to assess the causal effect of MDS on HRQoL that is not mediated via anemia.
Results
In total, 1,538 lower-risk MDS patients (mean age 73.4 ± 9.0, 63.0% male) and 44,694 individuals from the Lifelines cohort (mean age 59.0 ± 7.4, 43.6% male) were evaluated. As expected, EQ-5D index scores were significantly lower in MDS patients compared to Lifelines participants (0.74 ± 0.27 vs. 0.90 ± 0.10, p<0.001). A significantly larger proportion of MDS patients compared to individuals from the Lifelines cohort reported moderate/severe problems in all five EQ-5D dimensions: mobility (41.1 vs. 13.4, p<0.001), usual activities (34.9 vs. 11.8, p<0.001), self-care (12.9 vs. 1.3, p<0.001), pain (50.3 vs. 44.4, p<0.001) and anxiety (37.2 vs. 21.9, p<0.001). Anemia was present in 89.2% (1,372/1,538, mean Hb 10.1 g/dL)) and 2.9% (1,294/44,694, mean Hb 11.5 g/dL) of the MDS patients and Lifelines participants respectively. Multivariable linear regression analysis demonstrated that MDS was negatively associated with EQ-5D index scores in the crude analysis (model 1). MDS had an adjusted (causal) total effect on HRQoL (model 2, β=-0.24, p<0.001) and an anemia-independent 'direct' effect (model 3, β=-0.21). Multivariable logistic regression analysis revealed an anemia-independent impact of MDS in the dimensions mobility, self-care, usual activities and anxiety. Anemia had a small residual significant negative impact on HRQoL in the domain mobility (Figure).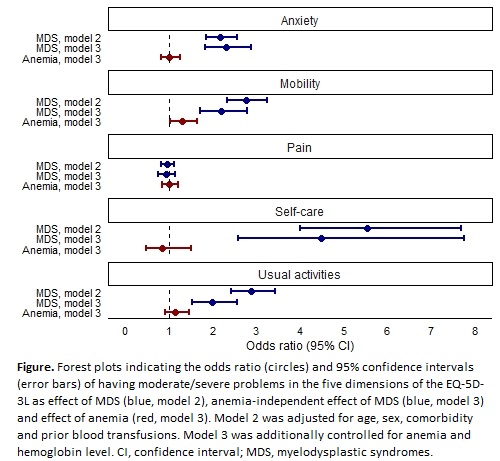 Conclusion
This study demonstrates a negative anemia-independent direct effect of lower-risk MDS on HRQoL, mainly in the domains mobility, usual activities, self-care and anxiety. Thus, treatment interventions directed at underlying pathogenic mechanisms should be integrated, rather than on predominantly aiming to increase Hb levels to improve HRQoL.
Session topic: 35. Quality of life, palliative & supportive care, ethics and health economics
Keyword(s): Anemia, Myelodysplasia, Quality of life