Abstract: S322
Type: Oral Presentation
Session title: New insights into mechanisms and management of bleeding disorders
Background
Hemophilia B is a congenital X-linked recessive bleeding disorder that occurs as a result of mutations at the F9 gene located at Xq27. It affects 1 in 30000 males. There are 1094 unique variants giving rise to Hemophilia B as per Factor IX Gene Variant Database, accessed January 2020. Haemophilia B Leyden was first recognized in 1970 with the observation of rapid rise in FIX levels starting from the time of puberty to reach lower normal levels and become factor independent in early adulthood. There are more than 20 genetic mutations associated with Hemophilia B Leyden phenotype. These mutations cluster at three particular regions within the proximal promoter region of the F9 gene and include mutations in nucleotides c.-34 and c.-35 in almost half the cases, mutations around nucleotide-20 and mutations around nucleotide +10. Mutation at c.-35G>A is the second most common mutation in mild Hemophilia B in Ireland.
The mechanisms for post pubertal increase of FIX in Hemophilia B Leyden are controversial with most in vitro and in vivo studies suggesting direct role of androgen receptors (AR) on post pubertal increase of FIX in Hemophilia B Leyden. Anaplastic steroids were used for prophylactic treatment in patients with Hemophilia B Leyden. In a study using transgenic mice recapitulating the phenotype of Hemophilia B Leyden; human factor IX expression in these transgenic mice was reproducibly nullified by hypophysectomy, but nearly fully restored by administration of growth hormone. FIX levels were only restored to 10% of pre-hypophysectomy levels by exogenous administration of dihydrotestosterone or oestrodiol. A report looking at two symptomatic female carriers of Hemophilia B Leyden showed age related normalization in their plasma FIX:C with no clinical features of androgen excess.
Aims
Hemophilia B is twice as common in Ireland compared to other countries (one per 12500 males). We aim to define the exact timing of significant increase in FIX in Hemophilia B Leyden and weather it correlates with puberty.
Methods
We studied Hemophilia B Leyden in children attending the National Irish Hemophilia Centre at Our Lady's Children Hospital, Crumlin, to evaluate the timing of increase in their plasma FIX level. We measured the level of FIX:C using automated one stage assay in 5 children diagnosed with Hemophilia B Leyden in the first year of life. Sequence analysis was performed by standard dideoxysequencing of the F9 exon 1 and the upstream promoter region.
Results
In four out of five children diagnosed with Hemophelia B Leyden during the first year of life, FIX level increased progressively from less than 0.05 iu/ml to more than 0.1 iu/ml during the first 3 years of life (Figure 1). One child continued to have significantly low FIX level which improved after puberty.  All children in this study showed the presence of c.-35G>A mutation within the promoter region.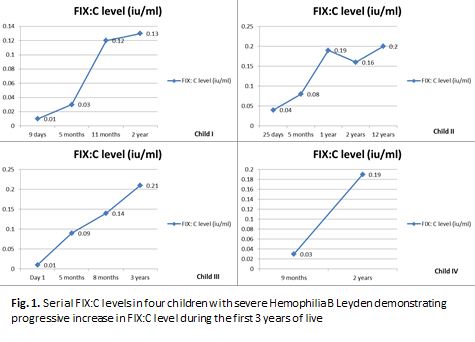 Conclusion
Contrary to the longstanding theory that the improvement in FIX level is due to androgen effect; animal studies suggested the increase in FIX plasma levels is independent of androgens. Our study is the first clinical evidence to show significant increase in FIX plasma levels in early childhood independent of androgen effect. All cases in our cohort have an identical F9 mutation. This suggests that the heterogeneity of Hemophilia B Leyden genetic mutations may also be associated with heterogeneity in the mechanisms through which FIX plasma levels increase with age.
Session topic: 33. Bleeding disorders (congenital and acquired)
Keyword(s): Factor IX