Abstract: S310
Type: Oral Presentation
Session title: Infectious complications
Background
Hematology patients undergoing chemotherapy are prone to developing fever, which often remains of unknown origin (FUO). Early antibiotic discontinuation, even when fever persists, has been advocated to reduce unnecessary exposure to broad-spectrum antibiotics, but the effect on treatment failure is unknown. 
Aims
We aimed to assess if short treatment was non-inferior to extended treatment for patient with high risk febrile neutropenia of unknown origin. 
Methods
We conducted a multicenter, open-label, randomized clinical trial in 6 centres in The Netherlands. Hematology patients with FUO during high risk neutropenia (≥7 days) were eligible for participation. Eligible patient were randomly assigned (1:1) to receive either a short carbapenem treatment with discontinuation after 72 hours, irrespective of fever, or extended treatment for ≥9 days until afebrile for 5 days or end of neutropenia, whichever came first. The primary endpoint was treatment failure defined as recurrent fever or a carbapenem-sensitive infection from day 4 until day 8 and septic shock or death from day 4 until end of neutropenia (EON). Secondary endpoints included overall and infection-related mortality until 30 days after EON. We used margin of 10% to declare non-inferiority.
Results
Between December 2014 until August 2019 268 patients were included. In the modified intention-to-treat population treatment failure occurred in 28/135 patients in the short treatment and 22/133 in the extended treatment group: Absolute risk ratio (ARR) 4% (90% C.I.  -2.3 − 10.3%). In the per-protocol population the short treatment experienced 9.3% (0.8 – 17.7%) more treatment failure. Non-inferiority of short treatment could be proven with regard to recurrent fever, septic shock and mortality until EON. The mortality risk until 30 days post-EON was 2.9% (C.I. 1.6 – 4.2%) higher in the short treatment group, but the infection related mortality rate until 30 days post-EON was not statistically different between the treatment groups (ARR 1.6% (C.I. 0.2 – 3.3%)) .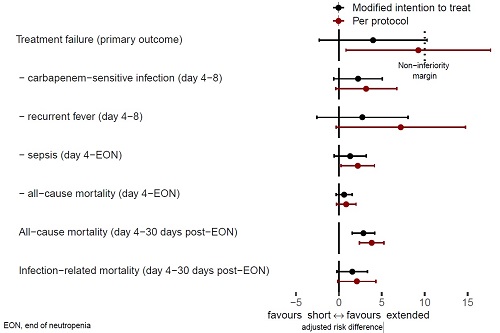 Conclusion
Early discontinuation of a carbapenem resulted in more treatment failure compared to extended treatment and non-inferiority could not be proven. 
Session topic: 30. Infectious diseases
Keyword(s): Clinical trial, Febrile neutropenia, Fever, Infection