Abstract: S290
Type: Oral Presentation
Session title: New therapeutic approaches for sickle cell disease
Background
IMR-687 is a phosphodiesterase 9 (PDE9) inhibitor in clinical development as a once a day, oral therapy for the treatment of sickle cell disease (SCD). IMR-687 activates the NO-cGMP signaling pathway by inhibiting PDE9 resulting in increases of intracellular cGMP levels. In vitro and in murine systems this has led to increases in fetal hemoglobin (HbF) expression and reduction in sickling and RBC hemolysis.
Aims
The objectives of this study are to evaluate the safety, tolerability, PK, and PD of 50 to 200 mg of IMR-687 in 2 populations of subjects with SCD: those not on hydroxyurea (HU) (Pop A) and a shorter duration sub-study for those on HU for at least 6 months and using a stable dose for at least 60 days before screening (Pop B).
Methods

IMR-SCD-102 is a Phase 2a, randomized, double-blind, placebo-controlled study of IMR-687 in adult subjects with sickle cell anemia (homozygous HbSS or sickle-β0 thalassemia). Subjects in Pop A receive either IMR-687 or placebo for a total of 24 weeks. On Day 1, they were randomized 1:1:1 to receive IMR-687 50 mg, IMR-687 100 mg, or placebo daily for 12 weeks. Subsequent to the Safety Review Committee's (SRC) review of each subject's safety data, the dose was doubled at week 13. Subjects in Pop B were randomized 2:1 and either received 50mg of IMR-687 or placebo. After an SRC review after 4 weeks, the dose was doubled. As pre-specified in the protocol, a 2nd interim analysis was performed once at least 18 subjects in Pop A had completed the study. Pop B subjects were also analyzed for drug-drug interactions with HU. Pre-study HU PK and weeks 5 and 17 IMR-687 and HU combination dosing was assessed.
Results
Unblinded safety measures were available for 57 subjects. No clinically significant changes in white blood cell counts (including neutrophil count) or vital signs were noted in either population. There were no treatment-related SAEs. No AEs leading to discontinuations were noted. A total of 18 subjects already completed the study: 6 on placebo, 7 on 50/100 mg and 5 on 100/200 mg of IMR-687. At 25 weeks, in Pop A 100/200 mg dose group there was a dose-dependent significant (p=0.022) mean increase in F-cells of 155% from baseline (18.1% absolute increase) and a mean 1.7% absolute increase in HbF. Subjects on the lower dose arm 50/100mg did not show F-cell increases until subjects were escalated to the 100mg dose (weeks 13-25).  Subjects in the low dose group did not show increases in HbF% through week 25. In the high dose group, 60% of completers had an increase in HbF% that exceeded the 1% responder threshold (mean increase 3.1%). In Pop B, the 50/100 mg dose group showed IMR-687 was well-tolerated in combination with HU and that there were no drug-drug interactions.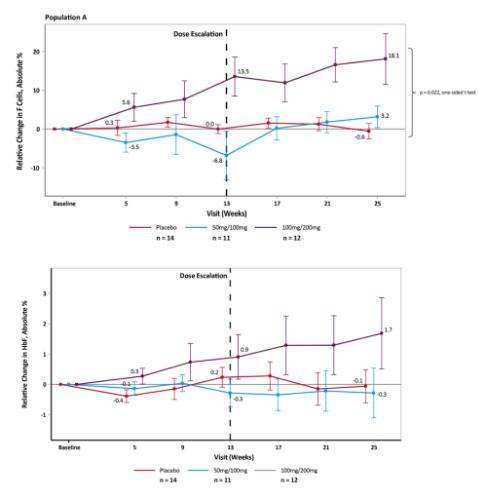 Conclusion
This 2nd interim analysis demonstrates that daily dosing of IMR-687, either alone or in combination with HU, was well-tolerated. Findings demonstrate a statistically significant increase in F-cells and an encouraging and dose-dependent increase in HbF percentage in patients in the high dose group after 24 weeks of monotherapy. PK data indicated that treatment with IMR-687 + HU did not result in changes in the HU PK and that there were no drug-drug interactions between IMR-687 and HU suggesting a role in combination therapy. The clinical data generated in this pre-specified interim analysis support further clinical development and testing of higher doses of IMR-687 as a potential disease modifying therapy for SCD.
Session topic: 26. Sickle cell disease
Keyword(s): Clinical trial, Hemoglobinopathy, Sickle cell disease