This abstract is embargoed until Friday, June 12, 08:30 CEST.
Abstract: S280
Type: Oral Presentation
Session title: Immunotherapy - Clinical
Background
BCL11A is a transcription factor and key component of the hemoglobin (Hb) switch that regulates the repression of g-globin chain production occurring early in the post-natal period, leading to the production of adult HbA. Suppression of BCL11A is associated with increases in fetal Hb (HbF). In both transfusion-dependent β-thalassemia (TDT) and sickle cell disease (SCD), HbF upregulation may reduce or eliminate the need for transfusion therapy and, in SCD, may reduce vaso-occlusive crises (VOCs).
Aims
To induce HbF production in erythrocytes, we used ex vivo CRISPR-Cas9–based gene editing to disrupt BCL11A in hematopoietic stem and progenitor cells (HSPCs), producing CTX001. CLIMB THAL-111 (NCT03655678) and CLIMB SCD-121 (NCT03745287) are multi-center, first-in-human studies of edited patient cells (CTX001) in TDT and SCD, respectively. Here, we present initial results from the first 2 patients treated with CTX001.
Methods
Patients (18-35 y of age) with TDT receiving packed red blood cell (pRBC) transfusions of ≥100 mL/kg/y or ≥10 units/y in the previous 2 y and those with severe SCD defined as ≥2 VOCs/y in the previous 2 y were eligible. Peripheral CD34+ HSPCs were collected by apheresis after mobilization with G-CSF (filgrastim) and plerixafor (TDT) or plerixafor alone (SCD). CD34+ cells were edited with CRISPR-Cas9 using a guide RNA specific for the erythroid enhancer region of BCL11A. Prior to CTX001 infusion on Day(D)+1, patients received myeloablative conditioning with busulfan. Patients were monitored for stem cell engraftment/hematopoietic recovery, adverse events (AEs), Hb production, hemolysis, HbF and F-cell expression, pRBC transfusion requirements (TDT), and VOCs (SCD).
Results
Data are presented for 1 patient with TDT (β0/β+ [IVS-I-110]) with an annualized pRBC transfusion history of 34 units/y over 2 y prior to consent; follow-up post-CTX001: 12 mo) and 1 patient with SCD (βS/βS with 7 VOCs/y, annualized over 2 y prior to consent; follow-up post-CTX001: 6 mo). The patient with TDT achieved engraftment of neutrophils (D+33) and platelets (D+37). Two serious AEs (SAEs) occurred, both considered unrelated to CTX001: veno-occlusive liver disease (related to busulfan) and pneumonia in the presence of neutropenia; both resolved. The last pRBC transfusion was on D+30; in the 12 mo post-CTX001 infusion, phlebotomy for iron reduction occurred on D+98, D+147, D+170, D+191. The patient with SCD achieved neutrophil and platelet engraftment on D+30. Following CTX001 infusion, 3 SAEs (sepsis while neutropenic, cholelithiasis, and abdominal pain) occurred; all considered unrelated to CTX001. No VOCs have occurred since CTX001 infusion. For both patients, the safety profile was generally consistent with busulfan myeloablation and autologous hematopoietic stem cell transplantation. Markers of intravascular hemolysis demonstrated significant improvement. Total Hb, HbF and F-cell expression increased over time in both patients (Figure).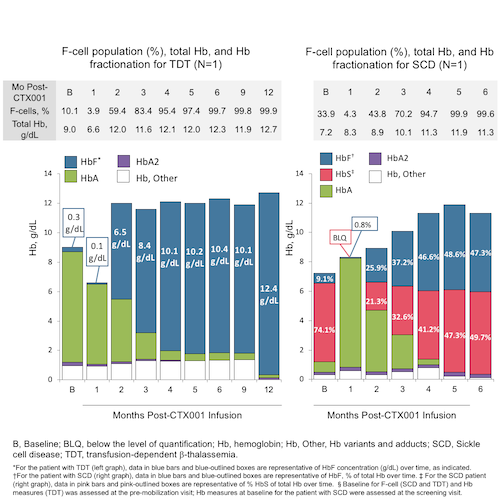 Conclusion
The first 2 patients treated with CTX001 demonstrated successful engraftment. The patient with TDT has been transfusion free since D+30 after CTX001 infusion (12.4 g/dL HbF at 12 mo). The patient with severe SCD has had no VOCs in the 6 mo following CTX001 infusion (HbF 47.3% of total Hb at 6 mo). This is the first scientific report of patients with a human genetic disease treated successfully with CRISPR-Cas9 and indicates that CTX001 is a promising approach for the treatment of hemoglobinopathies. Data will be updated for the presentation.
Submitted on behalf of the CLIMB THAL-111 and CLIMB SCD-121 Investigators.
Session topic: 25. Gene therapy, cellular immunotherapy and vaccination - Clinical
Keyword(s): Beta thalassemia, Hemoglobin, Sickle cell disease