Abstract: S236
Type: Oral Presentation
Session title: Aggressive lymphomas: Observational studies
Background
Central nervous system (CNS) relapse in DLBCL is rare but is associated with poor outcomes. Although robust data in the field is lacking, there is evidence to suggest high dose methotrexate (HD-MTX) can reduce CNS relapse risk for selected patients. With median time to CNS relapse of approximately 6-8 months, there is rationale to deliver HD-MTX early but limited evidence to guide whether it should be intercalated between R-CHOP cycles (i-HD-MTX) or given at end of R-CHOP treatment (EOT).
Aims
To analyse HD-MTX toxicity and its effect on R-CHOP relative dose intensity, comparing i-HD-MTX vs EOT delivery. Exploratory analyses of survival outcomes and CNS relapse rates were secondary aims.
Methods
We conducted a retrospective, multicentre analysis of 334 patients with DLBCL from 11 UK centres who received CNS prophylaxis with either i-HD-MTX (n=204) or EOT HD-MTX (n=130) according to centre policy. All cycles of i-HD-MTX given were reviewed and delays to subsequent R-CHOP cycles recorded, with univariable and multivariable analyses (MVA) of risk factors for delay. A second analysis of all R-CHOP delays throughout therapy for both groups was performed, including MVA with timing of HD-MTX incorporated as a risk factor. Specific toxicities with all cycles of HD-MTX were recorded.
Results
Figure 1A describes selected baseline characteristics. The EOT group had more patients receiving additional intrathecal (IT) prophylaxis (60% vs 32%, p<0.001). Of 409 cycles i-HD-MTX given, 82 (20%) were associated with a delay of next R-CHOP (median 7 days, range 2-150). Delays were significantly increased when i-HD-MTX was given after day 9 post R-CHOP (26% vs 16%, p=0.01). MVA identified that i-HD-MTX delivery later in the R-CHOP cycle was the only significant factor associated with delay (HR 1.12 (95%CI 1.04-1.22), p=0.003). Comparing delays between groups, delays of ≥3 days and ≥7 days were seen in 90/203 (44%) and 65/203 (32%) patients respectively in the i-HD-MTX group vs 27/119 (23%) and 18/119 (15%) in the EOT group (p<0.001). Intercalating HD-MTX was the only factor independently associated with R-CHOP delay on MVA (HR 2.84 (95% CI 1.52-5.31), p=0.001).
Nineteen CNS relapses occurred with median time to relapse 8.1 months (range 5-46) and most (85%) involving CNS parenchyma. The 3 year cumulative incidence of CNS relapse was 5.9% (95%CI 3.0-8.8), with no significant difference between groups (HR 1.21 (95%CI 0.48-3.07)) (Figure 1B). No increase in CNS relapse was seen in the 54 EOT patients who had no IT therapy (5.5% vs 5.8%, p=0.96). There was no significant difference in PFS or OS between groups (median follow-up 2.4 years) (Figure 1 C-D). Toxicity data from 729 cycles HD-MTX demonstrated increased mucositis (10% vs 4%, p=0.001), grade 3 febrile neutropenia (10% vs 2%, p<0.001) and longer median inpatient stay (5 vs 4 days, p<0.001) with i-HD-MTX vs EOT delivery.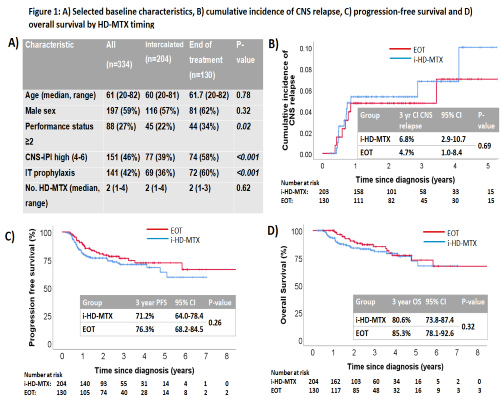 Conclusion
i-HD-MTX was associated with increased toxicity and R-CHOP delays compared to EOT delivery. Our data show a low rate of CNS relapse in both groups although we recognise potential for bias in a retrospective study. Concurrent IT therapy is a potentially confounding factor and the additional value of IT MTX during R-CHOP, when EOT HD-MTX is planned, remains unclear. Although we cannot conclude whether adopting an i-HD-MTX or EOT approach is superior, our data support delivering HD-MTX as early as possible during or following R-CHOP. Such decisions should be individualised, based on careful analysis of competing risks. Where i-HD-MTX is favoured, we recommend that it is scheduled before day 10 of the R-CHOP cycle.
Session topic: 19. Aggressive Non-Hodgkin lymphoma - Clinical
Keyword(s): CNS, CNS lymphoma, DLBCL, Methotrexate