Abstract: S233
Type: Oral Presentation
Session title: Aggressive lymphomas: Prospective studies
Background
There is a significant need for novel therapeutics in patients (pts) with relapsed/refractory (R/R) diffuse large B-cell lymphoma (DLBCL). Loncastuximab tesirine (ADCT-402; Lonca) is an antibody‐drug conjugate comprising a humanised antibody directed against CD19 conjugated to a pyrrolobenzodiazepine dimer toxin. Lonca had encouraging antitumour activity and acceptable safety in R/R DLBCL in a phase 1, first-in-human clinical trial in R/R B-cell non-Hodgkin lymphoma. 
Aims
To present initial efficacy results, evaluated by overall response rate (ORR), and safety data of the full study population from a phase 2 trial of Lonca in R/R DLBCL.
Methods
This single-arm, multi-centre, open-label trial (NCT03589469) enrolled pts aged ≥18 years with R/R DLBCL (DLBCL not otherwise specified [NOS], primary mediastinal large B-cell lymphoma [PMBCL] and high-grade B-cell lymphoma [HGBCL] with MYC and BCL2 and/or BCL6 rearrangements; WHO, 2016), following ≥2 lines of prior systemic therapy. The primary objective is to evaluate the efficacy of Lonca by ORR. Secondary objectives are to further evaluate efficacy, to characterise safety, pharmacokinetics and immunogenicity of Lonca, and to evaluate impact on health-related quality of life. Pts received 30-minute infusions of Lonca every 3 weeks (1 cycle) at a dose of 150 μg/kg for the first 2 cycles, then 75 μg/kg for subsequent cycles, for up to 1 year. Response was assessed centrally using Positron Emission Tomography-Computed Tomography according to the Lugano criteria.
Results
As of 14 Oct, 2019, 145 pts were enrolled and had received a median of 3 (range 1–10) cycles of Lonca. Histologies were DLBCL-NOS (123 pts; 84.8%), HGBCL with MYC and BCL2 and/or BCL6 rearrangements (16 pts; 11.0%) and PMBCL (6 pts; 4.1%); 26 (17.9%) pts had transformed indolent lymphoma. The majority (63.4%) had stage IV lymphoma. Median age was 66 years (range 23–94) and pts had received a median of 3 prior systemic therapies (range 2–7); 24 pts (16.6%) had received prior stem cell transplant (21 autologous, 2 allogeneic, and 1 both). 20.0% were primary refractory and 56.6% were refractory to their last-line prior therapy.
ORR was 45.5% (66 pts; Figure), with a complete response rate (CRR) of 20.0% (29 pts) and a partial response rate of 25.5% (37 pts); 15.2% (22 pts) had stable disease. ORRs (CRR) in pts with DLBCL-NOS, HGBCL/PMBCL, and transformed lymphoma were 47.2% (19.5%), 36.4% (22.7%), and 46.2% (23.1%), respectively. Pts refractory to first-line or last-line prior therapy had ORRs (CRR) of 37.9% (10.3%) and 34.1% (7.3%), respectively.
Overall, 141 (97.2%) pts had ≥1 treatment-emergent adverse event (TEAE), 92 (63.4%) pts had grade ≥3 TEAEs, and 24 pts (16.6%) had TEAEs leading to treatment withdrawal. The most common (≥5%) non-haematological grade ≥3 TEAE was gamma-glutamyltransferase increase (20 [13.8%]); haematological abnormalities were neutrophil count decrease (34 [23.4%]), platelet count decrease (20 [13.8%]), anaemia (14 [9.7%]), lymphocyte count decrease and white blood-cell count decrease (8 [5.5%] each).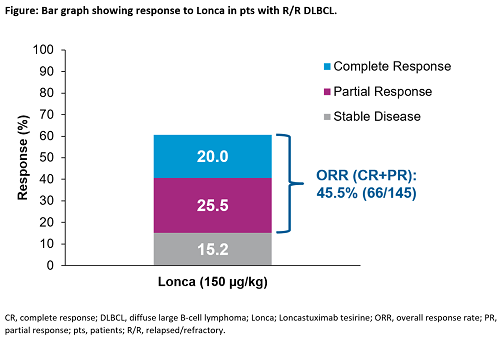 Conclusion
Lonca had substantial single-agent antitumour activity in pts with R/R DLBCL who failed established therapies. The ORR exceeded the primary endpoint target for the trial, reinforcing the potential for Lonca to fill a critical unmet need and become a key part of the treatment paradigm for heavily pretreated pts with DLBCL. The toxicity profile was manageable and no new safety concerns were identified. Updated results, including duration-of-response and subsequent treatments, will be presented at the meeting.
Session topic: 19. Aggressive Non-Hodgkin lymphoma - Clinical
Keyword(s): Antibody targeting, Diffuse large B cell lymphoma, Refractory, Relapse