Abstract: S232
Type: Oral Presentation
Session title: Aggressive lymphomas: Prospective studies
Background

R-CHOP chemotherapy remains the standard regimen for treatment of diffuse large B-cell lymphoma (DLBCL) but is poorly tolerated in older or co-morbid patients (pts). Changes to doxorubicin dose or formulation may improve tolerability but toxicity data in pts with cardiac co-morbidities are lacking. Fields et al (J Clin Onc 2014) demonstrated the efficacy of Gemcitabine (G) plus R-CVP (Rituximab, Cyclophosphamide, Vincristine, Prednisolone) in pts at high risk of anthracycline toxicity. The immunoconjugate Inotuzumab Ozogamicin (IO) offers the ability to directly target the anthracycline-like agent calicheamicin to CD22+ tumour cells and can be combined with R-CVP (Ogura, Clin Can Res 2018).
Aims

To compare the efficacy and safety of IO-R-CVP with G-R-CVP for frontline treatment of DLBCL in pts unfit for full dose R-CHOP chemotherapy.
Methods

Pts recruited to this multicentre phase 2 trial were aged ≥18 years with untreated DLBCL, performance status (PS) 0-2 and reduced cardiac ejection fraction (EF) or other co-morbidities precluding anthracycline use. A corticosteroid pre-phase was given to optimise PS. Pts were randomised to six 21-day cycles of standard-dose R-CVP with either G (875mg/m2 days 1,8 (750mg/m2 if PS 2), escalating to 1000mg/m2) or IO (0.8mg/m2 day 2), plus 2x rituximab, stratified by International Prognostic Index (IPI), EF and centre. Response was assessed by CT. The primary endpoint was progression-free survival (PFS). 61 events were required to show a 15% improvement at 2 years (HR=0.62), with a 1-sided α of 15% and 80% power.
Results

129 pts were registered between 2014–2019. 63 eligible pts were randomised to the G arm and 60 to IO. 6 pts were ineligible. Median age was 79 years (range 59–88), 34% had PS 2, 63% had IPI ≥3 and 32% had an EF <50%. Other co-morbidities included hypertension (75%), ischaemic heart disease (55%), arrhythmia (41%), renal impairment (38%), diabetes (32%) and valvular heart disease (11%). Characteristics were evenly balanced between arms.
The median number of cycles delivered was 5 (IQR: 2–6) in the G arm and 6 (4–6) for IO (p=0.05). Those with IPI ≥3 received a median of 4 cycles (IQR: 2–6) of G and 6 (4–6) of IO (p=0.03). 19 pts (30%) withdrew after ≤3 cycles of G compared with 7 (12%) for IO (p=0.03). Grade ≥3 leukopenia was more common with G compared with IO (44%, 13%), as were anaemia (25%, 10%), cardiac events (21%, 6%) and elevated ALT (17%, 3%; ps<0.05). There were no cases of hepatic veno-occlusive disease. Grade 5 events occurred in 9 (14%) G and 7 IO (12%) pts.
Overall response rates were 58.3% for G and 74.6% for IO (p=0.06). Median follow-up is 40 months and 68 events have occurred. There were no detectable differences in PFS rates (HR 0.81 for IO, 70% CI: 0.63–1.04) or overall survival (HR 0.84, 70% CI: 0.64–1.09). 2-year PFS rates were 45% (95% CI 32–58) for G and 49% (35–61) for IO. Non-relapse mortality (NRM) was a major factor, with 15 non-lymphoma deaths (24%) with G and 15 (25%) with IO. A pre-specified subgroup analysis showed superior PFS with IO over G in pts with IPI 3-5 (HR 0.52, 95% CI: 29–92%; Figure), potentially due to reduced G delivery in this group. Outcomes according to CD22 expression will be presented.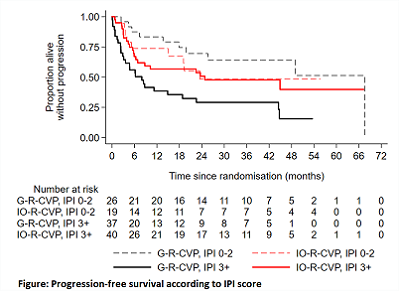 Conclusion

To our knowledge, this is the first randomised trial of frontline DLBCL treatment for anthracycline-unfit pts. We did not demonstrate superiority for IO over G in this challenging pt group with high NRM. However, IO-R-CVP is an effective and deliverable regimen for DLBCL in high-risk, co-morbid pts, particularly those with high IPI, in whom fewer cycles of G-R-CVP were delivered.
Session topic: 19. Aggressive Non-Hodgkin lymphoma - Clinical
Keyword(s): Comorbidities, Diffuse large B cell lymphoma, Immunoconjugate