Abstract: S231
Type: Oral Presentation
Presentation during EHA25: All oral abstract presentations will be made available on the on-demand Virtual Congress platform as of Friday, June 12 at 08:30 CEST and will be accessible until October 15, 2020.
Session title: Aggressive lymphomas: Prospective studies
Background
Volumetric parameters derived from positron emission computed tomography (PET/CT) at baseline may predict outcome of conventional immunochemotherapy in diffuse large B-cell lymphoma (DLBCL) patients. However, their prognostic value in interim scans is unclear.
Aims
The main purpose of the present study was to investigate the ability of PET metric parameters derived from interim scans to predict outcome of conventional immunochemotherapy. We tested their impact on overall (OS) and progression-free (PFS) survival in a cohort of uniformly treated diffuse large B-cell lymphoma (DLBCL) patients.
Methods
PET scans were obtained at baseline and after 2 treatment cycles (interim PET) from 138 patients receiving 6 cycles of with rituximab plus cyclophosphamide, doxorubicin, vincristine and prednisone given every 14 days (R-CHOP14) in the prospective SAKK38/07 study (NCT00544219). Maximum standardized uptake value (SUVmax), metabolic tumor volume (MTV) and total lesion glycolysis (TLG) were estimated with MTV segmentation by a 2.5 SUVmax fixed-threshold algorithm. Cut-off values were defined by receiver operating characteristic (ROC) analysis. Responses were scored using the Deauville scale (DS).
Results
After a median follow-up of 64 months, patients with DS5 at interim PET (defined by uptake >2 times higher than in normal liver) had worse PFS (HR, 2.91; P= 0.014) and OS (HR, 5.92; P < 0.0001) as compared to patients with DS 1-4. Elevated SUVmax, MTV and TLG at interim PET/CT also identified patients with shorter PFS and OS. A reduction of SUV max >66% in interim scans was associated with longer PFS (HR, 3.28; P= 0.0027) and OS (HR, 7.45; P< 0.0001). ). In a stepwise Cox regression of the individual interim and baseline PET parameters associated with outcome at univariable analysis, only ΔSUVmax and baseline MTV maintained an independent significant impact on PFS and OS. Notably, the prognostic discrimination of ΔSUVmax was extremely good in patients with high baseline MTV, while it appeared less useful in those with low MTV at disease onset, who had a generally more favorable outcome. A prognostic model integrating ΔSUVmax and baseline MTV identified three risk groups with significantly different outcomes (log-rank test for trend, P < 0.0001 for both OS and PFS). This PET-derived model showed superior discriminatory power and remained the only significant outcome predictor in a multivariable Cox regression controlling for the main clinical international prognostic indices (IPI, NCCN-IPI, and R-IPI).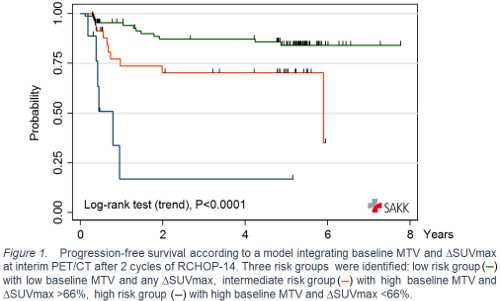 Conclusion
Interim PET can identify poor-risk patients. In keeping with another recent report (Schmitz et al. Eur J Cancer, 2020), we showed that a prognostic model based on MTV at diagnosis and ΔSUVmax may allow early recognition of refractory patients who might benefit from alternative treatments. We also showed that a residual lesion uptake >2 times above the liver SUVmax after 2 R-CHOP-14 cycles is the best prognostic cut-off point, suggesting that a purely visual definition of DS should be replaced by a semi-quantitative evaluation. Moreover, this study showed that absolute values of MTV and TLG maintained at the interim PET the prognostic validity they had in baseline scans and that SUVmax at interim is a powerful outcome predictor. These findings indicate that, interim PET/CT staging may be very useful also in patients who for any reasons did not had baseline PET scans, even though ΔSUVmax cannot be obtained and interpretation of DS is hindered by the lack of prior scans.
Session topic: 19. Aggressive Non-Hodgkin lymphoma - Clinical
Keyword(s): DLBCL, PET, Prognostic groups