Abstract: S229
Type: Oral Presentation
Presentation during EHA25: All oral abstract presentations will be made available on the on-demand Virtual Congress platform as of Friday, June 12 at 08:30 CEST and will be accessible until October 15, 2020.
Session title: Indolent and mantle-cell non-Hodgkin lymphoma - Clinical
Background

Central nervous system (CNS) relapse of Mantle Cell Lymphoma (MCL) is a rare phenomenon for which a standard of care has not been identified. Responses to conventional treatment for CNS-MCL are poor, with median survival of less than 6 months. Ibrutinib is approved for relapsed/refractory MCL, and small series demonstrated efficacy in CNS disease due to its ability of crossing the blood-brain barrier (BBB). 
Aims
To report the outcome of MCL patients (pts) with documented CNS involvement at relapse, and analyze response and survival of pts treated with ibrutinib compared to standard therapy.
Methods
We retrospectively analyzed a multi-center series of consecutive pts with CNS relapse of systemic MCL treated between 2000 and 2019 in 38 centers (20 internationals and 18 from FIL). The cohort included 39 pts receiving standard therapy as described in previous reports. Overall survival (OS) was estimated from the time of initiation of CNS-MCL directed therapy until death.
Results
Eighty-four pts were analyzed: 58 pts (69%) were treated with standard immuno-chemotherapy (CHT) (standard cohort, SC), while 26 pts (31%) were treated with ibrutinib (ibrutinib cohort, IC). The two cohorts displayed similar characteristics: median age was 62 years (yrs) (range: 38-84) in SC and 63 years (range: 48-77) in IC (p=0.26); blastoid variant was diagnosed in 29% SC and 24% IC pts (p=0.78); MIPI score was high in 63% SC and in 71% IC pts (p=0.64). Median prior therapies for MCL preceding CNS relapse was 1 (range: 1-5) in the SC and 1 (range: 1-2) in the IC (p=0.15). Median time from initial MCL diagnosis to CNS relapse was 15 months (range: 2-122) in the SC, and 19 months (range: 1-86) in the IC (p=0.45). In the SC, treatment for CNS relapse consisted of rituximab plus BBB crossing therapies in 28 pts (48%), rituximab plus bendamustine-based in 6 pts (11%), intrathecal (IT) CHT only in 17 pts (29%) and radiotherapy in 7 pts (12%). BBB crossing therapies consisted mainly of HD-methotrexate, alone in 7 pts (25%), combined with HD-Ara-C in 19 pts (68%), and 2 pts (7%) received ifosfamide-based. In the SC, IT therapy was added in 45 pts (78%). Patients in the IC received ibrutinib 560 mg p.o. daily until progression or toxicity; IT CHT was given concurrently in 12 pts (46%). Data for response assessment were available for 79 pts (89%). Overall-response rate (ORR) was 72% in the IC and 39% in the SC, while complete response (CR) rate was 42% and 17%. Considering pts receiving BBB crossing treatments within the SC, ORR was 46% and CR rate 22%. The difference between CR rate in the IC and BBB crossing therapies group was statistically significant (42% vs 22%, p=0.02). With a median follow-up of 4.3 months, the 1-y OS of the entire study population was 27%. Ibrutinib conferred a statistically significant superior 1-y OS compared to SC (61% vs 16%; HR=0.29, p < 0.001). Similarly, OS was confirmed superior with ibrutinib compared to pts receiving BBB crossing therapies (1-y rates: 59% vs 25%; HR=0.39, p=0.011) (Fig. 1). IT therapy was not of additional benefit in the IC (IT vs no IT: 1-y OS 63% vs 60%, p=0.72) or in the SC cohort (1-y OS 13% vs 25% p=0.45). In the IC no unexpected toxicity was reported, including no cases of invasive fungal infection.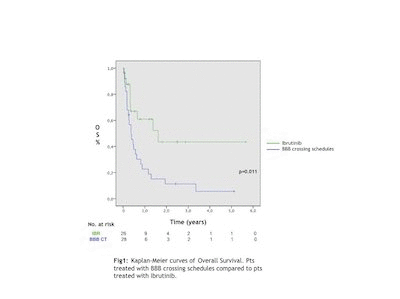 Conclusion
This is the first large cohort analyzing outcome of pts treated with ibrutinib for CNS relapse of MCL. With the usual limitations of a retrospective analysis, ibrutinib was associated with an improved response and survival compared to standard immuno-CHT in this difficult to treat population, with half of pts alive at 1 year.
Session topic: 18. Indolent and mantle-cell non-Hodgkin lymphoma - Clinical
Keyword(s): CNS lymphoma, Ibrutinib, Mantle cell lymphoma