Abstract: S223
Type: Oral Presentation
Presentation during EHA25: All oral abstract presentations will be made available on the on-demand Virtual Congress platform as of Friday, June 12 at 08:30 CEST and will be accessible until October 15, 2020.
Session title: Hodgkin lymphoma - Clinical
Background

Older patients with classical Hodgkin lymphoma (cHL) experience disproportionate excess mortality (EM) in modern clinical practice compared to their younger counterparts. Knowledge about the treatment landscape in older cHL patients at the population level may elucidate areas that require improvement to reduce EM.
Aims

In this nationwide, population-based study, we investigated trends in primary therapy and relative survival (RS) in cHL patients aged ≥60 years during a 28-year period in the Netherlands.
Methods

We selected all cHL patients aged ≥60 years diagnosed between 1989-2017 from the Netherlands Cancer Registry (NCR), with survival follow-up until 2019. Data on primary therapy—i.e., radiotherapy (RT), chemotherapy (CT), CT+RT, and no anti-neoplastic therapy—were available in the NCR. Data on the specific chemotherapeutic regimen, number of treatment cycles, treatment modifications, and performance score (PS) were available for patients diagnosed as of 2014.
Five-years RS was calculated to estimate disease-specific survival. Multivariable evaluation of RS was performed to identify prognostic factors. We analyzed the number of chemotherapy cycles received, and treatment modifications, stratified for fit (i.e. age 60-70 years and PS 0-2) or unfit (i.e. age ≥70 years or PS >2) condition. All analyses were stratified by period (1989-1999, 2000-2009, and 2010-2017) and age (60-69, 70-79, and ≥80 years), unless otherwise stated.
Results

We included 2,328 patients (median age, 70 years; range, 60-98 years; 46% females; 49% stage III/IV disease) in this analysis.
The use of RT alone sharply declined as from 2000 in stage I/II patients aged 60-79 years, due to the broader use of CT+RT (Fig 1A). CT alone was favored in all stage III/IV patients, with no noteworthy trends in its use over time (Fig 1A). The largest proportion of patients who received no anti-neoplastic therapy were those aged ≥80, irrespective of disease stage (Fig 1A).
Detailed therapy data of 371 patients diagnosed during 2014-2017 showed that the majority of CT recipients received ABVD, followed by CHOP (Fig 1B). However, treatment adaptations were common, and only 70% and 39% of fit and unfit patients with stage I/II received ≥2 cycles of ABVD or CHOP, respectively, as recommended by treatment guidelines. The corresponding proportions for patients with stage III/IV who received ≥6 cycles of ABVD or CHOP were 40% and 24%. Nearly all treatment modifications were due to toxicity or comorbidity that hampered the safe completion of therapy.
Overall, when adjusted for age, sex, and stage, patients diagnosed during 2010-2017 had 30% lower EM compared to patients diagnosed during 2000-2009 (EM ratio: 0.70, 95%CI 0.60-0.82) (Fig 1C). Furthermore, advanced age and stage, but not sex, were associated with inferior RS. Age- and stage-specific analyses of 5-years RS revealed small improvements over time, albeit RS is still low for most patients. (Fig 1D).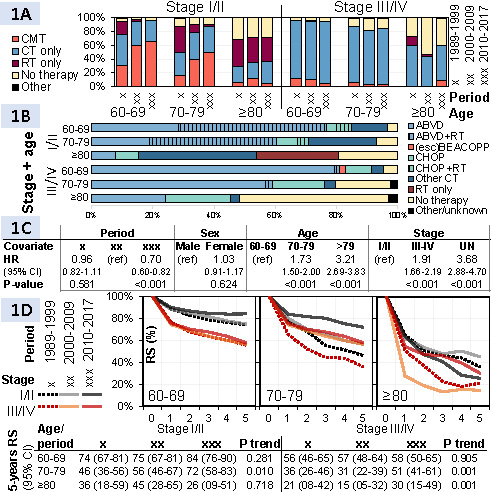 Conclusion

The population-level survival of cHL patients aged ≥60 years in modern clinical practice is still far from the life expectancy of comparable groups from the general population. Although most patients are treated with ABVD or CHOP as per guideline recommendations, the majority did not complete the recommended treatment cycles, mostly due to toxicity or comorbidity. Therefore, less toxic regimens that do not compromise treatment efficacy are needed to reduce EM in older cHL patients.
Session topic: 17. Hodgkin lymphoma - Clinical
Keyword(s): Elderly, Epidemiology, Hodgkin's lymphoma, Population