Abstract: S217
Type: Oral Presentation
Session title: Novel therapies and pitfalls in MPN
Background
Ruxolitinib (RUX) is effective in controlling myelofibrosis (MF)-related splenomegaly and symptoms by JAK1/JAK2 inhibition. In the phase I/II study, 11% of the patients (pts) experienced a RUX discontinuation syndrome (RDS), a wide range of adverse events (AEs) attributed to a rebound cytokine storm.
Aims

To investigate in a real-world contest: 1) incidence, timing and severity of RDS; 2) type of prevention strategies; 3) risk factors associated with RDS.
Methods

Overall, 700 MF pts were treated with RUX in 20 European Hematology Centers. Spleen (SR) and symptoms (SyR) responses were evaluated according to IWG-MRT criteria.
Results

After a median follow-up from RUX start of 36.3 mos, 242 (34.6%) pts stopped RUX and survived >30 days after discontinuation. At RUX start, characteristics of these 242 pts were: median age 67y (24-88); males 59.9%; PMF 59.9%; median Hb 10 g/dl; median PLT/WBC: 211/10.2 x109/l. At any time, 43.8% and 80.2% of pts achieved a SR or a SyR.
Causes of RUX stop were: RUX failure (60.6%: lack/loss of SR/SyR or leukemic transformation); AEs (28.6%; hematological AEs: 20.7%); other causes (10.8%). At the time of decision to stop RUX, daily dose (mg BID) was: 5, 10, 15 or 20 in 46.3%, 21.9%, 16.5% and 15.3% of pts.
An active strategy to prevent RDS was performed in 101 (41.7%) pts, specifically: RUX taper alone (44 pts); RUX taper in combination with prednisone (PDN) ± hydroxyurea (HU) (32 pts); PDN ± HU without tapering (25 pts). Median duration of tapering was 20 days (2-90). Median PDN dose was 12.5 mg/d, with a median exposure of 29 days (10-255); HU was used at a median dose of 1 g/d for a median of 60 days (4-210). In the remaining 141 (58.2%) pts, RUX was quickly discontinued without any specific intervention.
Overall, 53 (21.9%) pts experienced a mild RDS which was defined as: troublesome fatigue/itching/bone pain/abdominal discomfort (36 pts, 67.9%); onset of night sweats/fever/weight loss (9 pts, 17%); symptomatic increase of spleen length (16 pts, 30.2%). In 2 additional (0.8%) pts, RDS required hospitalization due to sudden spleen rupture (1 pt) and uncontrolled fever, with dyspnoea, fatigue and weight loss (1 pt), which recovered only after RUX rechallenge. Median time from RUX stop to RDS occurrence was 10 days (2-65).
Factors at RUX stop significantly associated to increased risk of RDS in univariate analysis were: PLT <100 x109/L (HR:2, p=0.02), RUX dose ≤10 mg BID (HR:3.8, p=0.001), spleen length ≥10 cm (HR: 1.8, p=0.03), and discontinuation due to AEs (HR:1.83, p=0.02). In multivariable analysis, RUX dose ≤10 mg (HR:3.4, p=0.01), spleen ≥10 cm (HR: 2.0, p=0.01), and discontinuation due to AEs (HR:1.87, p=0.03) retained statistical significance (Fig.1). Finally, RDS was significantly associated with the need of RUX rechallenge, with 10/55 (18.2%) RDS pts eventually resuming RUX (p<0.001) (Fig.2).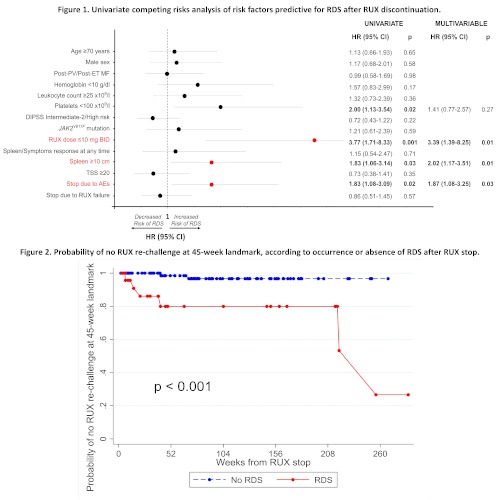 Conclusion

Severe RDS is very rare (<1% of pts), but symptoms and/or splenomegaly significantly increase in >20% of pts after RUX stop. Pts at higher risk for RDS, particularly those whose discontinuation is forced by AEs, should be followed more cautiously. Also, RDS may identify a population that can still benefit from RUX rechallenge because the rebound indicates residual disease control activity (i.e. those suspended intentionally for apparent loss of efficacy). Overall, these results highlight the need for implementation of active prevention strategies and suggest a quick switch to alternative treatment if clinically indicated.
Session topic: 16. Myeloproliferative neoplasms - Clinical
Keyword(s): Myelofibrosis, Ruxolitinib