Abstract: S216
Type: Oral Presentation
Presentation during EHA25: All oral abstract presentations will be made available on the on-demand Virtual Congress platform as of Friday, June 12 at 08:30 CEST and will be accessible until October 15, 2020.
Session title: Novel therapies and pitfalls in MPN
Background
RUX improves symptoms, reduces spleen size, and improves survival for pts with MF. However, some pts may experience suboptimal response due to persistent PI3K/AKT activation despite continued JAK inhibition. Parsaclisib (INCB050465) is a potent and highly selective next-generation PI3Kδ inhibitor. We hypothesized that adding parsaclisib would improve outcomes in pts with suboptimal response to stable doses of RUX.
Aims
This phase 2 study (NCT02718300) in MF evaluated optimal dosing and efficacy of add-on parsaclisib in pts with suboptimal response to RUX.
Methods
Pts had primary, post–polycythemia vera or post–essential thrombocythemia MF, ECOG performance status ≤2, and suboptimal response (palpable spleen >10 cm below left subcostal margin [LSM], or splenomegaly 5–10 cm below LSM and presence of 1 symptom score ≥5 or 2 symptom scores ≥3 using the Screening Symptom Form) after ≥6 months of RUX treatment (tx) (5–25 mg twice daily and a stable dose for ≥8 wks). All pts provided informed consent. Pts remained on their stable RUX dose and were randomized to add-on tx with parsaclisib in the following groups: daily (QD)/weekly (QW) (10 mg or 20 mg parsaclisib QD for 8 weeks/same dose QW thereafter) or all QD (5 mg or 20 mg parsaclisib QD for 8 weeks/5 mg QD thereafter) (Figure 1). The primary efficacy endpoint was change in spleen volume from baseline (BL) to wk 12 by imaging (MRI or CT scan); other endpoints included change in spleen length and symptoms (MF Symptoms Assessment Form [v3.0] Total Symptom Score [MFSAF-TSS]).
Results
At data cutoff (Oct 10, 2019), 33 pts received parsaclisib QD/QW and 18 pts received all QD parsaclisib. Median tx duration was 192 d and median average daily dose of parsaclisib was 5.0 mg/d and RUX was 32.2 mg/d. At BL, median spleen volume (cm3) was 2333 (327–5324) in QD/QW (n=30) and 1890 (434–3051) in QD (n=18). Median MFSAF-TSS was 10.8 (n=28) and 19.1 (n=14), respectively. Median percent change in spleen volume at wk 12 was −2.3 (n=30) in QD/QW and −13.0 (n=11) in QD, and at wk 24 was −2.5 (n=24) and −27.1 (n=6), respectively. Figure 2 shows mean reduction in palpable spleen length. Median percent change in MFSAF-TSS at wk 12 was −14.0 (n=21) in QD/QW and −51.4 (n=6) in QD.
Nonhematologic treatment-emergent adverse events (TEAEs) were primarily grade (Gr) 1/2. Gr 3/4 TEAEs included disseminated tuberculosis, enteritis, fatigue, hypertension, increased alanine aminotransferase, and increased aspartate aminotransferase (1 pt each in QD/QW). New-onset Gr 3 thrombocytopenia was observed in 6/23 pts in QD/QW and 4/18 pts in QD; Gr 4 was observed in 7/23 pts in QD/QW and 0/18 pts in QD. Two serious AEs were reported (1 each of varicella zoster virus infection and disseminated tuberculosis). No colitis or dose-limiting diarrhea or rash were observed. TEAEs led to parsaclisib interruption in 17/33 pts in QD/QW and 8/18 pts in QD, and RUX in 5/33 pts and 3/18 pts, respectively.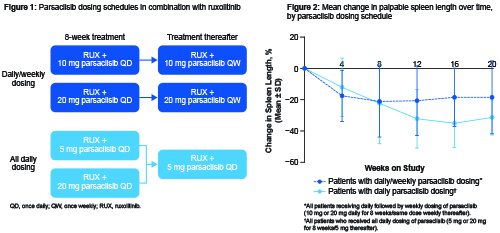 Conclusion
Addition of parsaclisib to RUX showed efficacy in pts with MF experiencing suboptimal response. QD parsaclisib dosing appeared to be more efficacious than QD/QW. Combination therapy demonstrated an acceptable safety profile with limited Gr 3/4 TEAEs and no dose-limiting TEAEs. Pt enrollment continues; updated data will be presented.
Session topic: 16. Myeloproliferative neoplasms - Clinical
Keyword(s): Myelofibrosis, Phase II, PI3K, Ruxolitinib