Abstract: S215
Type: Oral Presentation
Session title: Novel therapies and pitfalls in MPN
Background
More than 70% of MF patients (pts) treated with ruxolitinib (Rux) discontinue tx within 5 years (Verstovsek et al. J Hematol Oncol. 2017). The prognosis for these pts is poor with a reported median (med) overall survival of 14 months (Kuykendall et al. Ann Hematol. 2018). In MF pts, MDM2, a key negative regulator of the tumor suppressor protein p53, is overexpressed in circulating CD34+ hematopoietic stem/progenitor cells (Lu et al. Blood. 2017). This provides the rationale to test KRT‑232, a potent, orally available small molecule inhibitor of MDM2 in MF patients.
Aims
This is an ongoing single‑arm, 2‑part, open‑label, global phase 2 study (NCT03662126) in pts with MF who are R/R to prior JAKi tx (intolerant pts are excluded). Part A evaluated safety and efficacy to determine the dose and schedule for Part B.
Methods
Eligible pts were aged ≥18 years with ECOG PS ≤2 and had intermediate or high-risk disease (per Dynamic International Prognostic System [DIPSS] scoring). Pts were randomly assigned to 1 of 3 Arms: KRT-232 120 mg (A1) or 240 mg (A2) daily (qd) on days (d) 1-7 of 21-d cycles or 240 mg qd (A3) on d 1-7 of 28-d cycle. Rux washout was not required. The primary endpoint was spleen volume reduction (SVR) ≥35% at week (wk) 24 by MRI/CT (central review). Key secondary endpoints were safety and tolerability and improvement of total symptom score (TSS) of ≥50% at wk 24 and 48 by modified Myeloproliferative Neoplasm Symptom Assessment Form (MPN‑SAF) v2.0.
Results
As of 21 Jan 2020 and with a med follow-up of 5.1 months, 82 pts were enrolled across 64 sites in North America and Europe, representing a heterogenous and heavily pre-treated group of MF pts (med prior tx = 2 and med time on prior Rux = 15 months). 98% were p53WT and clinical characteristics were similar among Arms (Figure).  A3 pts who crossed wk 12 or 24 or discontinued drug for any reason, best SVR35 was 16% (4/25); 9 pts in A3 remain on tx and have not crossed wk 24. Among the 44% of A3 pts who were on Rux at baseline scan (BLS), the reported mean change in spleen volume (BLS to wk 12) was (+)3% vs. (-)18% for pts not on Rux at BLS. Pts with a BLS within 7d of first KRT-232 dose had a more pronounced mean SVR at wk 12 vs pts who had a BLS >7 days prior to first dose, (-)21%, (-)4%; respectively. Of pts on the 120 mg dose (A1) who crossed wk 12 or 24, none achieved SVR ≥35% (Figure). Treatment-emergent AEs (TEAEs), regardless of causality, were reported in 98% of patients (51% Grade 3; 24% Grade 4). The most common TEAEs were diarrhea (62%), thrombocytopenia (45%), nausea (38%), anemia (29%), vomiting (21%), abdominal pain (20%), neutropenia (18%), and asthenia (16%). Grade 5 TEAEs occurred in 5 pts; 3 were deemed unrelated to KRT-232.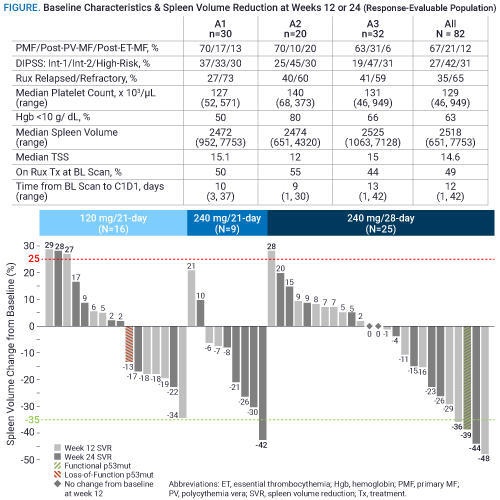 Conclusion
KRT-232 demonstrates a dose-dependent relationship for safety and efficacy and shows promising activity and tolerability in poor prognosis R/R MF pts. Of note, magnitude of SVR may have been confounded by a lack of Rux washout and the timing of BLS relative to initiation of KRT-232. This is the first clinical proof-of-concept highlighting the important role of MDM2i for the treatment of R/R MF. Recommended dose and schedule for Part B is KRT-232 240 mg d 1-7/28-d cycle.
Session topic: 16. Myeloproliferative neoplasms - Clinical
Keyword(s): Myelofibrosis