Abstract: S200
Type: Oral Presentation
Session title: New insights in the treatment of newly diagnosed multiple myeloma
Background
Maintenance therapy following initial treatment has been shown to delay disease progression in non-ASCT NDMM pts. A number of agents have been investigated, but proteasome inhibitor (PI)-based maintenance has not been studied in a placebo-controlled trial. Currently used maintenance options may be limited in duration due to toxicity and/or route of administration, and additional options are needed.
Aims
The international, multicenter, double-blind, placebo-controlled, phase 3 TOURMALINE-MM4 trial (NCT02312258) evaluated the efficacy and safety of the oral PI ixazomib vs placebo as post-induction maintenance in non-ASCT NDMM pts. 
Methods
706 non-ASCT NDMM pts who received 6–12 months of standard-of-care induction therapy and achieved at least a partial response (≥PR) were randomized 3:2, double-blind, to ixazomib (n=425; 3 mg, cycles 1–4; then, if tolerated, 4 mg, cycle 5 onwards) vs placebo (n=281) on days 1, 8, and 15 of 28-day cycles for up to 2 years (26 cycles). Pts were stratified by prior PI exposure, pre-induction International Staging System (ISS) disease stage (I/II vs III), age (<75 vs ≥75 years), and post-induction best response (complete or very good partial response [CR/VGPR] vs PR). The primary endpoint was progression-free survival (PFS).
Results
Baseline characteristics were well balanced in the ixazomib vs placebo arms; median age was 72 vs 73 years, 38% vs 39% of pts were aged ≥75 years, 35% vs 36% had ISS stage III disease, and 17% vs 17% had high-risk cytogenetics. Following initial induction, 23%/40%/38% vs 22%/40%/38% of ixazomib vs placebo pts achieved CR/VGPR/PR. Overall, 83% vs 82% of ixazomib vs placebo pts received a PI and 32% vs 33% an immunomodulatory drug as part of their induction regimen; the most common regimens were VMP (30% vs 32%) and CyBorD (28% vs 29%). At the time of analysis, 20% vs 15% of pts were ongoing on ixazomib vs placebo, and 54% vs 70% had progressed or died. Ixazomib resulted in a significant improvement in PFS vs placebo (hazard ratio [HR] 0.659, 95% CI 0.542–0.801, p<0.001); median PFS was 17.4 vs 9.4 months (Figure). A significant (p<0.001) PFS benefit was seen in pts who achieved CR/VGPR post-induction (median 25.6 vs 12.9 months, HR 0.586). PFS also favored ixazomib in pts who achieved PR post-induction (median 10.2 vs 6.5 months, HR 0.756), pts aged <75 years (median 17.7 vs 9.3 months, HR 0.615) and ≥75 years (median 16.7 vs 10.6 months, HR 0.738), pts with ISS stage I/II (median 17.4 vs 10.6 months, HR 0.641) or stage III (median 16.6 vs 7.8 months, HR 0.695) disease, and PI-exposed (median 16.8 vs 11.1 months, HR 0.743) and PI-naïve (median 24.1 vs 7.7 months, HR 0.395) pts. Time to progression was significantly prolonged with ixazomib vs placebo (median 17.8 vs 9.6 months, HR 0.655, p<0.001). Overall survival data are not yet mature (19% of events); follow-up is ongoing. Overall, with ixazomib vs placebo, 91% vs 82% of pts had treatment-emergent adverse events (TEAEs), which were mostly grade 1–2 (37% vs 23% had a grade ≥3 TEAE); 22% vs 17% of pts had serious TEAEs, 13% vs 8% discontinued due to TEAEs, and 2.6% vs 2.2% died on study. Common TEAEs with ixazomib vs placebo included nausea (27% vs 8%), vomiting (24% vs 4%), and diarrhea (23% vs 12%); 5% vs 6% of pts had new primary malignancies.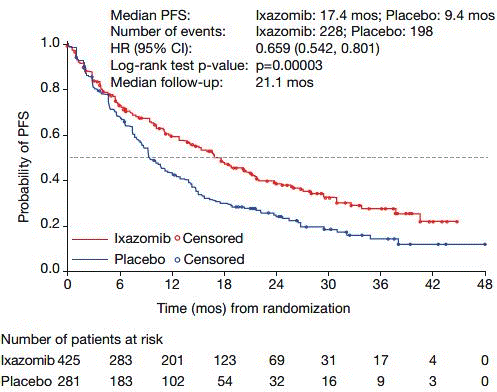 Conclusion
 Ixazomib as post-induction maintenance therapy in non-ASCT NDMM pts showed a clinically meaningful 34% reduction in the risk of progression or death, with a well-tolerated safety profile. Ixazomib is the first oral PI maintenance option for non-ASCT NDMM pts.
Session topic: 14. Myeloma and other monoclonal gammopathies - Clinical
Keyword(s): Clinical trial, Maintenance, Multiple myeloma, Proteasome inhibitor