Abstract: S182
Type: Oral Presentation
Session title: Novel treatments for MDS I
Background
The mechanism of action of pevonedistat (P), the first and only small-molecule inhibitor of the NEDD8-activating enzyme, involves disruption of proteasomal degradation of select proteins. In acute myelogenous leukemia (AML), P has shown encouraging clinical activity in combination with azacitidine (A) and has been well tolerated.
Aims
This phase 2, randomized, open-label trial (NCT02610777) evaluated the efficacy and safety of P+A vs A in patients (pts) with higher-risk myelodysplastic syndromes (MDS)/chronic myelomonocytic leukemia (CMML) or low-blast (LB) AML.
Methods
Pts with higher-risk MDS/CMML (Revised International Prognostic Scoring System risk >3) or LB AML who were naïve to hypomethylating agents (n=120) were randomized 1:1 to receive intravenous (IV) P 20 mg/m2 on days (d) 1, 3, and 5 combined with  IV/subcutaneous A 75 mg/m2 on d 1–5, 8, and 9 (n=58), or A alone (n=62), in 28-d cycles until unacceptable toxicity, relapse, transformation to AML, or progression. The primary endpoint was changed from event-free survival (EFS; time from randomization to death/transformation to AML) to overall survival (OS) during enrollment; thus, the study was not powered for OS. Secondary endpoints included EFS, overall response rate (ORR), and safety. Pt-reported health-related quality of life (HRQoL) was assessed using the European Organization for Research and Treatment of Cancer Quality of Life Questionnaire-C30. Mutational profiling was performed on screening bone marrow aspirate samples.
Results
Baseline characteristics were generally balanced between arms. The median number of treatment cycles was 13.0 vs 8.5 with P+A vs A. In the intent-to-treat (ITT) population (n=120), median OS with P+A vs A was 21.8 vs 19.0 months (hazard ratio [HR] 0.80; 95% CI 0.51–1.26; P=.334; median follow-up 21.4 vs 19.0 months). In subgroup analyses, median OS with P+A vs A was 23.9 vs 19.1 months (HR 0.70; 95% CI 0.39–1.27; P=.240) in higher-risk MDS pts (n=67) and 23.6 vs 16.0 months (HR 0.49; 95% CI 0.22–1.11; P=.081) in LB AML pts (n=36). EFS with P+A vs A trended longer in the ITT population (median 21.0 vs 16.6 months; HR 0.67; 95% CI 0.42–1.05; P=.076) and was longer in higher-risk MDS pts (median 20.2 vs 14.8 months; HR 0.54; 95% CI 0.29–1.00; P=.045). In response-evaluable pts, ORR was 71% (n=39/55; 45% complete remission [CR] + CR with incomplete blood count recovery [CRi], 5% partial response [PR], 20% hematologic improvement [HI]) with P+A vs 60% (n=32/53; 38% CR+CRi, 8% PR, 15% HI) with A. In higher-risk MDS pts, CR rate with P+A vs A was 52% vs 27% (P=.050). Median A dose intensity was 97% with P+A vs 98% with A. Grade ≥3 adverse events were reported in 90% vs 87% of P+A vs A pts; the most common were neutropenia (33% vs 27%), febrile neutropenia (26% vs 29%), anemia (19% vs 27%), and thrombocytopenia (19% vs 23%). On-study deaths occurred in 9% of P+A pts vs 16% of A pts. Pt-reported HRQoL was maintained with P+A, and there was no difference vs A; similar mean scores were sustained in both groups from study entry to end of treatment. Mutational analysis was unpowered, but notable activity of P+A was observed in pts with higher-risk MDS (Figure) or LB AML harboring poor prognostic mutations.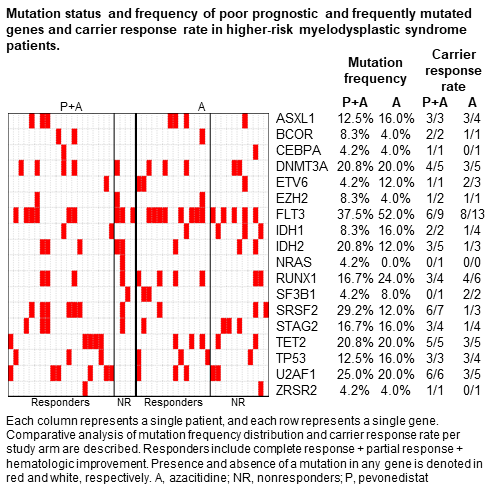 Conclusion
Compared with A, P+A led to improved EFS and CR rate in higher-risk MDS pts and numerically longer OS in the ITT population. Notable clinical activity was observed with P+A in poor-risk genetic subgroups. AE rates were similar and there were fewer on-study deaths with P+A vs A. A randomized phase 3 trial (NCT03268954) is in progress to further evaluate P+A vs A.
Session topic: 10. Myelodysplastic syndromes - Clinical
Keyword(s): AML, Chronic myelomonocytic leukemia, Clinical trial, MDS