Abstract: S174
Type: Oral Presentation
Session title: CML clinical
Background
Tyrosine Kinase Inhibitor (TKI) discontinuation in chronic phase CML is being implemented in clinical routine, but little is known about patients stopping TKI outside of clinical trials. Studies have shown that 40-50% of patients with a deep molecular response (DMR, defined as MR4.0 or lower on the International Scale) could successfully discontinue TKI. Most relapses occur within 12 months, and re-initiation of TKI treatment has been shown effective with most patients regaining DMR. In the updated (2019) Swedish Guidelines for CML, stopping TKI can now be considered in patients treated with a TKI ≥5 years and in MR4.0 or better for two years. In Sweden, >95% of patients diagnosed with CML are reported to the national CML registry, making it a unique source of population-based data (Hoglund et al., Blood, 2013). The Swedish Prescribed Drug Register is held by the Swedish National Board of Health and Welfare, and contains data on all prescribed drugs dispensed in Sweden since 2005.
Aims
To retrospectively identify and characterize CML patients diagnosed 2007-2015 and stopping treatment with TKI ≥1 month. Further aims were describing the proportion of CML patients stopping treatment due to DMR, the incidence of discontinuation attempts outside of clinical trials, and the proportion of patients still treatment-free at time of evaluation.
Methods
Patients diagnosed with CML between 2007-2015 were identified using the Swedish CML registry, and a TKI stop-form was sent to reporting clinicians. Only patients with a TKI-interruption ≥1 month were reported. Information collected included stop date, reason for stop, stop in a clinical trial, TKI re-initiation and reason and date for re-initiation. Information on last TKI prior to stop was collected from the Swedish Prescribed Drug Register. To allow for an adequate follow-up time, patients diagnosed between 2007-2012 were selected for further analysis, focusing on those discontinuing due to DMR.
Results
Between 2007-2012, 584 pts were diagnosed with CML. Information on TKI interruption was available in 548, of which 234 had a reported TKI interruption ≥ 1 month. Reasons for interruption were DMR in 131 (56%), adverse events in 43 (18%), allo-SCT in 31 (13%) and other in 29 (12%). Of the 131 pts discontinuing due to DMR (22% of all pts from this period), 29% (N=38) stopped in a clinical study (EURO-SKI and ENEST-Freedom) while 70% (N=92) stopped outside a study. Median time from diagnosis to TKI stop in a study was 4.2 years (IQR: 3.6-5.2), and 6.0 years (IQR: 4.0-7.5) outside study. Last TKI was imatinib in 63.2% and 48.9%, nilotinib in 23.7% and 29.3% and dasatinib in 13.2% and 21.7% for pts in study and outside study respectively. At time of evaluation, 64 pts (48.9%) had re-initiated TKI treatment at a median 0.4 years (IQR 0.3-0.6) after stopping TKI. Date of last follow-up was between Mar 2018 and Nov 2019, with a median follow-up time from stop of 2.9 yrs (IQR: 1.2-5.1). Net probability of remaining TKI treatment-free is shown in the figure.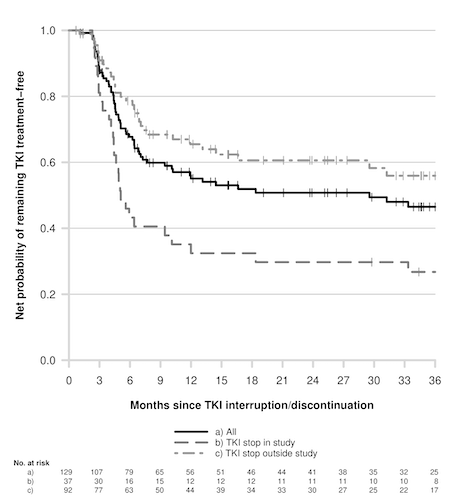 Conclusion
With a median follow-up of 9 years from diagnosis, TKI treatment was stopped in DMR in 24% of 548 evaluable CML patients, in a population-based setting. The majority stopped TKI outside clinical trials despite lack of recommendations in national guidelines at the time. Of those stopping TKI outside a study, the probability of remaining TKI treatment-free at 22 months was 61%. The reasons for higher TFR rate outside studies may be longer duration of therapy before stop and/or more frequent use of 2nd generation TKIs in this group.
Session topic: 08. Chronic myeloid leukemia - Clinical
Keyword(s): Chronic myeloid leukemia, Treatment-free remission, Tyrosine kinase inhibitor