Abstract: S159
Type: Oral Presentation
Session title: CLL - Targeted therapy I
Background
Acalabrutinib is a next-generation, highly selective, covalent Bruton tyrosine kinase inhibitor approved for patients with CLL including those with R/R CLL.
Aims
The efficacy and safety of acalabrutinib alone versus IdR or BR were shown in patients with R/R CLL in a preplanned interim analysis of ASCEND; final results are reported herein.
Methods
In this randomized, multicenter, phase 3, open-label study (NCT02970318), patients with R/R CLL were randomized 1:1 to receive oral (PO) acalabrutinib 100 mg twice daily (BID) or investigator's (INV) choice of IdR (Id: 150 mg PO BID until progression or toxicity; R: 375 x1 then 500 mg/m2 intravenously [IV] for 8 total infusions) or BR (B: 70 mg/m2 IV and R: 375 x1 then 500 mg/m2 IV for 6 total cycles) until progression or toxicity. Progression-free survival (PFS), overall survival (OS), overall response rate (ORR), and safety were assessed. All patients provided informed consent.
Results
A total of 310 patients (acalabrutinib, n=155; IdR, n=119; BR, n=36) were enrolled (median age: 67 y; del(17p) 16%, del(11q) 27%, Rai stage 3/4 42%). At a median follow-up of 22.0 months, acalabrutinib significantly prolonged INV-assessed PFS vs IdR/BR (median: not reached vs 16.8 months; hazard ratio: 0.27, P<0.0001); 18-month PFS rates were 82% for acalabrutinib and 48% for IdR/BR. The 18-month OS rate was 88% for both treatment regimens. The ORR was 80% with acalabrutinib versus 84% with IdR/BR; ORR including partial response with lymphocytosis was 92% versus 88%, respectively. Common adverse events (AEs) are listed in the Table. AEs led to drug discontinuation in 16% of acalabrutinib, 56% of IdR, and 17% of BR patients. AEs of interest included atrial fibrillation (acalabrutinib 6%, IdR/BR 3%), major hemorrhage (all grade; acalabrutinib 3%, IdR/BR 3%), grade ≥3 infections (acalabrutinib 20%, IdR/BR 25%), and second primary malignancies excluding non-melanoma skin cancer (acalabrutinib 5%, IdR/BR 2%).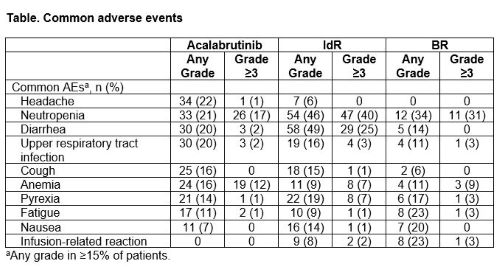 Conclusion
Final ASCEND results with additional follow-up confirm earlier findings and support the favorable efficacy and safety of acalabrutinib compared with standard-of-care regimens in patients with R/R CLL.
Session topic: 06. Chronic lymphocytic leukemia and related disorders - Clinical
Keyword(s): Chronic lymphocytic leukemia