This abstract is embargoed until Friday, June 12, 08:30 CEST.
Abstract: S157
Type: Oral Presentation
Session title: CLL - Targeted therapy I
Background

Prognosis of high risk CLL defined by 17p deletion and/or TP53 mutation (del(17p)/TP53mut) is still inferior, despite marked improvement with agents like ibrutinib (I) (Byrd et. al., 2015) and venetoclax (Ve) (Roberts et al., 2016). In patients (pts) with comorbidities, 1st line treatment with Ve plus obinutuzumab (GA-101, G) was safe and showed high rates of response and undectable minimal residual disease (uMRD) (Fischer et al., 2019), but del(17p)/TP53mut retained adverse prognostic impact.
Aims

To evaluate the triple combination of G, I, and Ve, we designed the CLL2-GIVe trial of the GCLLSG investigating safety and efficacy in the 1st line treatment of CLL with del(17p)/TP53mut independently of age or comorbidity.
Methods
All pts received treatment with a triple GIVe combination for six months. G was given according to standard schedule 1000mg on d1/8/15 of C1 and d1 of C2-6, while I was given continuously at 420 mg/d from d1C1. Ve was given from d22C1 with standard ramp-up to 400mg/d over 5 weeks until the end of C12. In case of complete remission (CR/CRi) according to iwCLL criteria at final restaging (imaging at end of C12 and bone marrow biopsy two months later) and uMRD  (<10-4) in peripheral blood after C9 and C12, I was stopped at C15. Otherwise, I was continued until C36. The primary endpoint was the CR rate at final restaging. Secondary endpoints include other efficacy and safety parameters.
Results

Between 09/2016 and 10/2018, 41 pts (24 male, 17 female) were enrolled with the following baseline characteristics: median age 62 (35 – 85) years, Binet stage B/C 78.0%, median CIRS score 3 (0-8). Del(17p) was present in 26, TP53mut in 39 and unmutated IGHV in 32 pts. TLS risk was increased in 39 pts due to high tumor burden (nodes ≥10 cm or ALC ≥25 G/l or splenomegaly ≥ 13 cm) or renal dysfunction (CrCl < 80 ml/min). Median follow-up is 18.6 (3.6-36.5) months. All 41 pts were included in efficacy and safety analyses. Final restaging was reached by 38 pts. With a CR rate of 58.5% (24 pts) at final restaging, the primary endpoint was met (CI: 42.1-73.7, p<0.001). 14 pts (34.1%) archived a PR. Among the 3 pts not assessable, 2 pts died (at C3 ovarian cancer was diagnosed, retrospectively pre-existing at enrolment and at C9 due to cardiac failure) and 1 pt withdrew consent at C10, but all three had reached a PR as their best response. Peripheral blood uMRD was achieved in 33 pts (80.5%) while 4 pts remained MRD positive and 4 pts were not assessed (Figure 1). Treatment was discontinued per protocol at C15 due to uMRD and CR/CRi in 22 pts and in 13 pts due to other reasons (AEs, patient decision, etc.), while 6 pts continued I beyond C15. In 41 pts most frequent adverse events (AEs) of all grades/grade 3-5 respectively until and including cycle 14 were gastrointestinal disorders (82.9%/0%); infections and infestations (70.7%/19.5%) and blood and lymphatic system disorders (58.5%/53.7%) with neutropenia (48.8%/43.9%) and thrombocytopenia (19.5%/14.6%). Cardiac disorders were reported in 19.5%/12.2%, thereof atrial fibrillation in 12.2%/2.4% of pts. Of note, there was 1 case each of cerebral aspergillosis, PML (without PCR testing), urosepsis, staphylococcal sepsis and febrile infection. Laboratory TLS was reported in 9.8%/ 9.8% and infusion related reactions in 29.3%/7.3% of pts.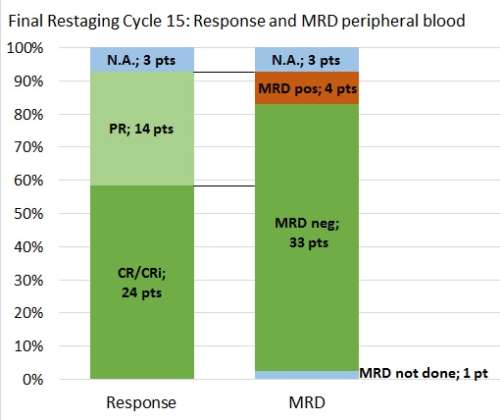 Conclusion

The GIVe triple combination regimen is a promising 1st line treatment option for pts with high risk CLL yielding encouraging response rates (58.5% CR/CRi (CI: 42.1-73.7, p<0.001)) and 80.5% uMRD.
Session topic: 06. Chronic lymphocytic leukemia and related disorders - Clinical
Keyword(s): Chronic lymphocytic leukemia, High risk