Abstract: S156
Type: Oral Presentation
Session title: CLL - Targeted therapy I
Background
Patients with relapsed/refractory (R/R) chronic lymphocytic leukemia (CLL) continue to represent an unmet medical need, with further challenges posed by 17p/TP53 aberrations. Venetoclax (VEN) is a highly selective BCL2 inhibitor. Here we present outcomes from VENICE-I (NCT02756611), the largest multicenter study evaluating the efficacy of VEN monotherapy in patients with R/R CLL to date, which includes a large proportion of B-cell receptor pathway inhibitor (BCRi) experienced patients.
Aims
To evaluate the efficacy of VEN monotherapy in patients with R/R CLL.
Methods
In this open-label, single arm, Phase 3b study, patients with R/R CLL, including those with 17p/TP53 aberrations (site reported), received VEN 400 mg QD following a 5-week ramp-up from 20 mg QD for 2 years. Patients provided informed consent. Clinical response was assessed (iwCLL 2008) at Weeks (Wks) 24, 36, and 48. Peripheral blood (PB) for minimal residual disease (MRD) assessments was collected at baseline (BL), and Wks 24 and 48. The primary endpoint was the rate of complete remission (CR) or CR with incomplete bone marrow recovery (CRi) in BCRi-naïve (BCRi-N) patients at Wk 48. Secondary endpoints included: overall response rate (ORR), progression-free survival (PFS), overall survival (OS), quality of life (QOL) assessed via Functional Assessment of Cancer Therapy – Leukemia Questionnaire (FACT-Leu), and safety. MRD level by next-generation sequencing was an exploratory endpoint.
Results
As of June 30, 2019, the trial included 258 patients (69.8% male; 63.6% aged ≥65 years), of whom 191 were BCRi-N and 67 had prior BCRi-treatment (BCRi-EXP). Patients received a median of 1 prior line of therapy in the BCRi-N group and 3 in the BCRi-EXP group (median of 9 months [mos] of BCRi therapy before starting VEN). A 17p/TP53 aberration was reported in 16.8% of BCRi-N patients and 43.3% of BCRi-EXP patients. In the BCRi-EXP group, 20 patients failed Bruton's tyrosine kinase inhibitor (BTKi) therapy due to R/R or progressive disease (PD) and 36 failed BTKi due to toxicity. Median VEN duration was 20.4 mos vs 23.2 mos for the BCRi-N vs BCRi-EXP group. Of 258 patients, 192 (74.4%) experienced Grade 3+ adverse events (AEs) (neutropenia [n=96, 37.2%]; infection [n=49, 19.0%]), 32 (12.4%) reduced dose due to AEs, and 109 (42.2%) discontinued VEN (12.8% AE; 10.9% PD). No new safety signals were observed. ORR and CR/CRi rates by Wk 48 were 85.3% vs 64.2% and 35.1% vs 25.4% in the BCRi-N vs BCRi-EXP groups, respectively (Table). PB undetectable MRD (uMRD) at Wk 48 was 35.6% (68/191) and 26.9% (18/67) for BCRi-N and BCRi-EXP groups, respectively. PFS in mos (24 mos PFS estimate %) was 30.5 (77.0%) overall, 28.6 (67.1%) in patients with 17p/TP53 aberration, and 30.5 (79.4%) vs 28.6 (69.9%) for the BCRi-N vs BCRi-EXP groups. Median PFS was not reached for patients who had either uMRD or CR/CRi. PFS with partial remission/nodular partial remission (PR/nPR) was 30.5 mos. OS was 83.7% overall, and 88.0% vs 71.6% for BCRi-N vs -EXP groups. Additional MRD and BCRi failure distribution (PD vs toxicity) analyses are planned. QOL showed clinically meaningful improvement at Wk 48 (mean change from BL in FACT-Leu leukemia subscale: BRCi-N, 6.5; BCRi-EXP, 7.8).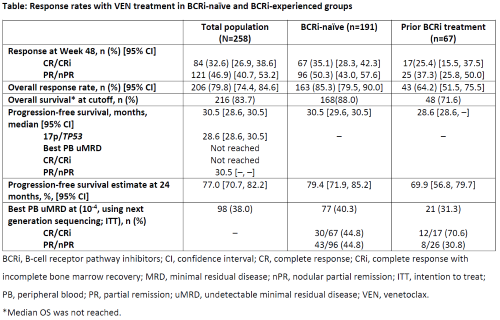 Conclusion
This Phase 3b study confirms VEN monotherapy can achieve deep responses (CR and/or uMRD) and has a tolerable and manageable safety profile in patients with R/R CLL. The duration of PFS was longer in patients who had uMRD, had better iwCLL response, and for BCRi-N vs BCRi-EXP patients. 
Session topic: 06. Chronic lymphocytic leukemia and related disorders - Clinical
Keyword(s): BCL2, Chronic lymphocytic leukemia, Clinical outcome, Phase III