Abstract: S149
Type: Oral Presentation
Session title: AML epidemiology and genetics
Background

Although significant progress has been made in Acute myeloid leukemia (AML), still about one-third of patient relapse. Prognosis of relapsed or refractory (R/R) AML is dismal. Chimeric antigen receptor (CAR) T cell therapy has demonstrated high success for B-cell malignancies. However, translation of CAR therapy to AML is yet to be accomplished. AML bears heterogeneous cells that may offset killing by single CAR-based therapies, resulting in disease relapse. LSCs associated with CLL1 expression comprise a small population that plays an important role in disease progression and relapse. CD33 is found on bulk AML cells in the majority of AML patients. Here we have developed a Phase I clinical trial targeting LSCs and bulk AML disease cells in the R/R AML patients.
Aims
To evaluate the toxicity and eficacy of the CLL1-CD33 cCAR in the treatment of R/R AML, and explore the probability of reducing the intensity of conditioning of HSCT after cCAR therapy.
Methods

We have generated a CLL1-CD33 cCAR bearing 2 complete CAR constructs connected by a cleavable linker, P2A. CAR T cells were manufactured in a cGMP facility. Eight were manufactured from autologous cells, and a ninth was from a HLA matched sibling donor. Between Jan 2018 and Sep 2019, 9 R/R AML patients were enrolled(Clinical#: NCT03795779). All patients received conditioning of fludarabine and cyclophosphamide with doses of 30 mg/m2/d and 300 mg/m2/d respectively. CAR-T cells were given by a dose escalation at 1~3×106/kg with a single or split dose.
Results

Of the 9 patients who have received cCAR T cell infusion, 7 were de novo AML, 1 was JMML transformed AML, 1 was CML in accelerated phrase. The median age was 32 years old (6~48 ), The median bone marrow blasts before treatment was 47% (1.6~87.82) %. 4 of 9 patients received dose 1 at 1×106/kg, 3 of 9 received dose 2 at 2×106/kg while 2 of 9 patients received dose 3 at 3× 106/kg. (Table 1)
 Cytokine release syndrome (CRS) occurred in 8 patients (3 grade Ⅰ, 3 grade Ⅱ, and 2 grade Ⅲ). Neurotoxicity occurred in 4 patients (1 grade Ⅰ and 3 grade Ⅲ). All CRS and neurotoxicity were resolved after treatment.  All patients suffered grade Ⅳ pancytopenia, 5 had a mild increased liver enzyme (but only 1 with mild increase of bilirubin), 4 had a coagulation disorder, 4 with diarrhea, 1 with skin rash, 1with renal insufficiency, 3 with sepsis, 2 with fungi infection and 3 with pneumonia. All the adverse effects were resolved after treatment.Early intervention with steroids had a positive effect on the reduction of CRS and neurotoxicity seen in the late enrolled patients.
On disease reevaluation within 4 weeks post CAR-T cell infusion, 7 of 9 patients were MRD- by flow cytometry, 2 of 9 had no response, one of which was CD33+/CLL1-, indicating the importance of CLL1 target in the CAR-T treatment.
For the 7 patients who reached MRD-, 6 patients moved to a subsequent HSCT, except one patient, who withdrew the study due to a personal issue. One of six received a standard myeloablative conditioning (Bu 3.2mg/kg/d for 4 days), 5 of 6 received a reduced intensity regimen (Bu 3.2mg/kg for 1~2 days). Five patients successfully engrafted with a persistent full chimerism, except one who died of sepsis on day +6 before engraftment.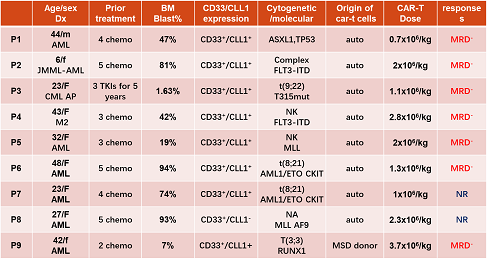 Conclusion

Our study indicates that CLL1-CD33 cCAR is a novel therapy with high efficacy and manageable toxicity in R/R AML patients. CLL1-CD33 cCAR may provide a platform of reduced intensity conditioning or nonmyeloablative conditioning HSCT for treating AML and other myeloid malignancies.  A Phase I clinical trial for CLL1-CD33 cCAR is underway.
Session topic: 04. Acute myeloid leukemia - Clinical
Keyword(s): Acute myeloid leukemia, CAR-T