Abstract: S145
Type: Oral Presentation
Session title: AML epidemiology and genetics
Background
Knowledge regarding the prognostic implications of leukemia and patient-related factors with acute myeloid leukemia (AML) have substantially improved over the past decades. Intensification of chemotherapy treatment, improvement of supportive care, and a higher rate of allogenic stem cell transplantation in addition to novel therapeutic options for elderly patients are supposed to have improved AML survival.
Aims
In this study, we investigate temporal overall survival (OS) trends and changes in treatment strategies among Danish AML patients in the period 2000-2016.
Methods
We included all adult AML (excluding acute promyelocytic leukemia) patients from the Danish National Acute Leukemia Registry diagnosed in the period 2000-2016. Treatment strategies were categorized as either intensive (remission inducing therapy), non-intensive (low-dose cytarabine or azacitidine), or palliative/no treatment based on the most intensive therapy received within 30 days of diagnosis. OS was estimated using the Kaplan-Meier method and modelled using flexible parametric models with date of diagnosis as covariate and Cox proportional hazards models.
Results
In total, 3846 patients were included. The crude OS did not improve significantly throughout the investigated period (P=0.3) with 2-year OS estimates of 26%, 24%, and 25% for patients diagnosed between 2000-2006, 2007-2011, and 2012-2016, respectively. However, a significant OS improvement was observed after adjusting for the increasing age distribution in the AML population (P<0.001). Age-stratified analyses revealed significant OS improvements only among patients >50 years of age. The 2-year OS for patients aged 50-59 years diagnosed in 2002 and 2016 was 41% and 58%, respectively, while the same estimates for patients aged 60-75 were 21% and 32% (Figure 1). No OS differences were observed between male and female patients. In 2000-2006, 2007-2011, and 2012-2016, intensive therapy was administered to 53%, 49%, and 44%, respectively, of all AML patients. The use of non-intensive chemotherapy increased from 2000-2006 (3%) to 2012-2016 (14%), especially among patients >75 years of age, where the proportion increased from 5% to 22%.  Among intensively treated patients (n=1872), the proportion of patients reaching complete remission after first or second chemotherapy course increased significantly from 71% in 2000-2006 to 76% in 2012-2016 (P=0.046). For the same patients, the 2-year OS increased significantly from 42% in 2002 to 56% in 2016 (P=0.003), but the increase was exclusively seen in age groups 60-75 (P=0.002) and >75 (P=0.009), although a trend towards improved survival was seen in patients aged 50-59 (P=0.07). The proportion of patients in first CR after intensive chemotherapy who were referred to ASCT significantly increased from 8% in 2000-2006 to 28% in 2012-2016 (P<0.001) and the median age of patients receiving ASCT increased from 46 years (range 20-66) in 2000-2006 to 58 years (range 19-74) in 2012-2016. The two-year age-standardized post-transplant OS was 57% in 2007 and 78% in 2016, but the increase was not statistically significant (P=0.39).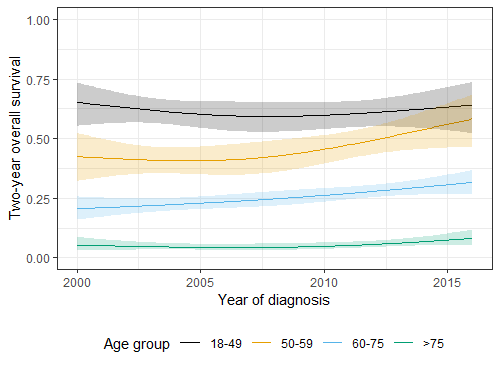 Conclusion
In conclusion, for adult Danes with AML, OS improvements were observed over the past two decades. Particularly patients between 50 and 75 years of age have benefitted from changes of routine clinical practices. However, limited OS improvements were seen in patients >75 years of age, and thus novel therapeutic options are still needed in this very large patient segment.
Session topic: 04. Acute myeloid leukemia - Clinical