Abstract: S143
Type: Oral Presentation
Session title: AML therapy
Background
Mutations in the isocitrate dehydrogenase-1 gene (IDH1) result in myeloid differentiation arrest and accumulation of the oncometabolite 2-hydroxyglutarate (2-HG), promoting leukemogenesis. We report a primary safety and efficacy analysis of the IDH1 inhibitor ivosidenib (IVO; 500 mg PO daily D15-continous) combined with venetoclax (VEN; D1-14 per 28-day cycle), +/- azacitidine (AZA; 75mg/m2 D1-7).
Aims
The dual primary objectives of this Phase Ib/II open-label non-randomized clinical trial is to assess the safety and efficacy of the mutant IDH1 targeted therapeutic ivosidenib in combination with the BCL2-inhibitor venetoclax, with or without the addition of azacitidine for the treatment of IDH1-mutant AML and related myeloid malignancies.
Methods
Eligibility includes patients 18 years of age or older, with IDH1-mutated myeloid malignancies (high-risk MDS and AML), enrolled into one of three successive cohorts (Cohort 1: IVO+VEN 400 mg, Cohort 2: IVO+VEN 800 mg, Cohort 3: IVO+VEN 400 mg+AZA). Primary endpoints include safety and tolerability and overall response rate (ORR) by revised IWG criteria. Key secondary endpoints include survival endpoints and PK correlates.
Results
19 patients (median age 68) were enrolled. Seventeen patients had AML; 9 with relapsed/refractory AML (R/R; median 1 prior line of therapy), 5 treatment naïve AML, and 3 HMA-failure MDS with progression to secondary AML.  Two patients had high-risk MDS. ELN risk was favorable, intermediate, and adverse risk in 37%, 15%, and 47%. Co-mutations included NPM1 (37%), chromatin-spliceosome (32%), RAS pathway (21%), and methylation (16%). Adverse events of special interest included IDH differentiation syndrome (n=4, grade > 3 in 1) and tumor lysis syndrome (TLS; n=2), including one grade 3 TLS event in a NPM1+ co-mutated patient (successfully managed without hemodialysis). In evaluable patients (n=18), composite complete remission (CRc: CR+CRi+CRh) rates were 78% overall (treatment naive: 100%, R/R: 75%), and were 67%, 100%, and 67% by cohort (median time to best response: 2 months). 50% of patients achieving CRc were also MRD negative by flow cytometry. Additionally, 1 patient experienced MLFS and 1 HI without CR/CRi.  Nine (50%) patients remain on study, 3 (17%) proceeded to SCT in CR, 2 were non-responders, and 5 (22%) experienced progressive disease following CRc occurring after a median of 3 months.  With a current median follow up time of 3.5 months, median OS was not reached in treatment-naïve patients, and was 9.7 months in R/R patients.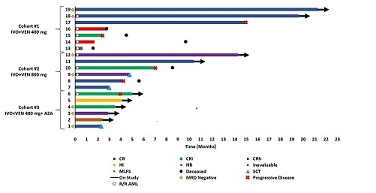 Conclusion
IVO+VEN AZA therapy is well tolerated and highly effective for patients with IDH1 mutated AML. Additional follow up and accrual is ongoing to better define tolerability, efficacy, and biomarkers of response.  Updated clinical data and additional translational analyses will be presented at the meeting. 
Session topic: 04. Acute myeloid leukemia - Clinical
Keyword(s): Acute myeloid leukemia, AML, Clinical trial, Targeted therapy