Abstract: S141
Type: Oral Presentation
Session title: AML therapy
Background
Hypomethylating agents (HMA) with VEN has emerged as a new standard for older patients (pts) with AML. However, it is unknown how VEN+HMA compares to IC in "fitter" pts. Additionally, outcomes with HMA+VEN is unknown for pts deemed at particularly high risk for treatment-related mortality (TRM) by objective methods.
Aims
To compare outcomes of older pts with AML receiving DEC10-VEN vs. IC, overall and after stratification by 'fitness' for IC using a validated TRM risk model. 
Methods
Frontline HMA+VEN pts received DEC10-VEN (phase 2 trial, NCT03404193) comprising 10 day (d) DEC 20 mg/m2 with daily VEN for induction, and 5d DEC with VEN as consolidation (Maiti et al. Blood 2019;134:263). The IC cohort were treated at a single institution between 2000-2018 with regimens containing ≥1 g/m2/d of ara-C. Pts with ELN favorable cytogenetics were excluded. The validated TRM score (TRMS) incorporating 8 clinical variables with a cut-off >13.1 was used to classify pts at high risk of TRM with IC (Walter et al. J Clin Oncol 2011). Propensity score matching (PSM) using age, ECOG performance status (PS), ELN risk group and high (>13.1) vs low TRMS was used for 1:2 matching. Stratified Cox model was used to compare outcomes.
Results
Median age of DEC10-VEN group (n=85) was 72 yrs (range 63-89), 5% pts had ECOG PS≥3, 65% pts had ELN adverse risk AML, 28% pts had high TRMS, 15% pts underwent allogeneic stem-cell transplantation (SCT) and median follow-up (FU) was 16 months (mo). Median age of the IC cohort (n=170) was 67 yrs (range 54-86), 7% pts had ECOG PS≥3, 58% pts had ELN adverse risk AML, 28% pts had high TRMS, 18% pts underwent SCT, 62% pts were treated on a clinical trial and median FU was 55 mo. In the overall population, DEC10-VEN showed superior CR/CRi, lower TRM and longer overall survival (OS) compared to IC (Fig 1a). Median OS with DEC10-VEN in the low TRMS group was 15.1 mo and in the high TRMS group was 9.1 mo (Fig 1b,c). CR/CRi was 82% with DEC10-VEN vs. 59% with IC (odds ratio [OR] 3.19, 95% confidence interval [CI] 1.65, 6.16, stratified p=0.001). 30d mortality was 1.2% with DEC10-VEN vs. 15% with IC (OR 0.07, 95% CI 0.01, 0.49, stratified p=0.008). Stratified analysis by TRM risk showed DEC10-VEN outcomes were superior to IC in pts at high risk of TRM and not statistically different from IC in pts at low risk of TRM (Table 1). Additional subgroup analyses by clinical and biological characteristics will be presented.
Table 1. Outcomes with DEC10-VEN vs. IC in AML by risk of TRM [values expressed as n(%)]
High risk of TRM (>13.1)

DEC10-VEN N=24

IC N=48

OR, or HR

95% CI

Stratified p

CR/CRi

17 (71)

17 (65)

4.00 (1.34, 11.44)

0.01 

Mortality 30d

0

16 (33)

NA

NA

               60d

4 (17)

21 (44)

0.17 (0.04, 0.81)

0.03

OS, mo

9.1

2.4

0.30 (0.13, 0.69)

0.01

Low risk of TRM (≤13.1)

N=61

N=122

 

 

CR/CRi

52 (87)

88 (72)

2.50 (1.08, 5.74)

0.03

Mortality 30d

1 (2)

8 (7)

0.22 (0.03, 1.87)

0.17

               60d

2 (3)

16 (13)

0.22 (0.05, 1.00)

0.05

OS, mo

15.1

11.2

0.75 (0.45, 1.26)

0.28
 Fig. 1 OS in older pts with AML with DEC10-VEN vs IC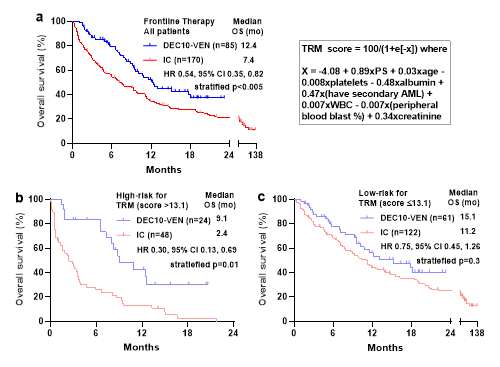 Conclusion
DEC10-VEN shows superior outcomes compared to IC in older pts with AML in a PSM analysis. Benefits were most pronounced in pts at high risk of TRM.
Session topic: 04. Acute myeloid leukemia - Clinical
Keyword(s): Acute myeloid leukemia, BCL2, Decitabine, Treatment-related mortality