Abstract: S138
Type: Oral Presentation
Session title: AML randomized trials
Background

Single-agent hypomethylating agent (HMA) treatment of AML patients (pts) is only effective in about half of the pts, thus primary resistance is frequent. But even in HMA responders, treatment failure by secondary resistance poses a major limitation to long-term disease control. Hence, drug combinations to improve HMA treatment outcome, e.g. with histone deacetylase inhibitors (HDACi) or differentiating agents (e.g. all-trans retinoic acid, ATRA) have been studied.
Aims

Conducting a randomized phase II trial (2x2 factorial design) to investigate the effects of the HDACi valproic acid (VPA) and ATRA in combination with an HMA in treatment-naive elderly AML pts.
Methods

Two-hundred pts (median age 76 years, range 61-92) deemed ineligible for induction chemotherapy received decitabine (DAC, 20 mg/m2 i.v. days 1-5) alone (n=47), in combination with VPA p.o. (n=57), ATRA (n=46), or VPA+ATRA (n=50). Primary endpoint: Objective response rate (CR/CRi/PR), tested one-sided with alpha=0.10. Key secondary endpoints: overall survival (OS), event-free and progression-free survival, and safety.
Results

ATRA add-on resulted in a higher CR/CRi/PR rate (21.9% with ATRA vs. 13.5% without ATRA, odds ratio, 1.80; 95% confidence interval [CI], 0.86-3.79; one-sided p=0.06), thus the primary study endpoint was met. For VPA, no effect on the response rate was observed (17.8% with VPA vs 17.2% without, odds ratio, 1.06; 95% CI, 0.51-2.21; one-sided p=0.44). With ATRA, OS was 8.2 months (mths) vs 5.1 mths without ATRA (hazard ratio [HR], 0.65; 95% CI, 0.48-0.89; two-sided p=0.006, Fig. 1A), with benefit across different risk groups including adverse-genetics, without added toxicities. Median OS was not affected by VPA add-on (Lübbert et al., J. Clin. Oncol. 2020). For an exploration why a moderate increase in response rate by ATRA addition resulted in a clinically very meaningful survival extension, the survival probabilities after attainment of best overall response (CR/CRi/PR/antileukemic effect, ALE) and without response were calculated by the Aalen-Johansen estimators and compared between treatment groups. Mean survival time after best response was longer in pts receiving ATRA (7.2 mths) than in pts not receiving ATRA (4.1 mths, Fig. 1B). For 82 patients achieving a CR/CRi/PR/ALE as best response, conditional median survival time after attainment of best response was 9.5 mths (95% CI 6.8-19.9) with ATRA (n=43) and 7.3 mths (95% CI 5.4-9.6) without ATRA (n=39). The estimated probability of survival without attaining response was also higher in the ATRA group than in the no-ATRA group (area under the curve, 5.8 mths with ATRA vs. 4.2 mths without ATRA), indicating that ATRA may prolong the stable disease phase. For 103 patients who experienced treatment failure (relapse after CR/CRi n=16, progression n=71, other out of study treatment n=16), conditional overall survival probability after treatment failure was also higher in the ATRA group compared to the no ATRA group (adjusted HR of ATRA vs. no ATRA 0.62, 95% CI 0.39-0.98).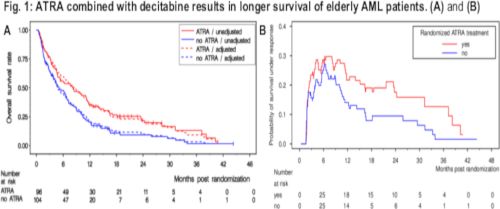 Conclusion

The addition of ATRA, but not VPA, to DAC improved the response rate and, particularly overall survival. The latter thus appears to be mediated by a delay of secondary resistance development. A better understanding of the underlying mechanism of action of this in vivo synergism between an HMA and ATRA is needed, particularly as regards modulation of HMA resistance development.
Session topic: 04. Acute myeloid leukemia - Clinical