This abstract is embargoed until Friday, June 12, 08:30 CEST.
Abstract: S102
Type: Presidential Symposium
Session title: Presidential Symposium
Background
TBI is the most commonly applied myeloablative strategy in ALL-patients undergoing allogeneic HSCT.
Aims
With the aim of avoiding acute and late toxicities of total body irradiation (TBI) in patients (pts) with acute lymphoblastic leukemia (ALL) undergoing haematopoietic stem cell transplantation (HSCT), we conducted a prospective, randomized, global trial ("FORUM") to investigate whether chemotherapy-based conditioning (CC) could supplant TBI.  Here we report the initial outcome results of the randomized trial.
Methods
Children aged 4 years and older with a matched sibling donor (MSD) or matched unrelated donor (MUD) were randomized to either CC (fludarabine/thiotepa/busulfan (flu/thio/bu) or flu/thio/treosulfan (treo)) versus TBI/etoposide (TBI/eto). 75 centers in 17 countries worldwide participated. Overall survival (OS) was the primary endpoint, with an aim to demonstrate non-inferiority of the chemoconditioning. With one-sided 95% confidence intervals and a non-inferiority margin of 8%, 1000 patients were required for power of 80%. A futility-stopping rule was established to halt randomization if the CC showed significant inferiority.
Results

Between 2013 and 2018, 404 of 413 randomized pts underwent HSCT with either TBI/eto (n=202), flu/thio/bu (n=99) or flu/thio/treo (n=93). Nine patients received TBI instead of chemo-conditioning and 6 patients received chemoconditioning instead of TBI.  Patients were transplanted in CR1 (54%), CR2 (40%) and CR3 (4%). Among CR2 patients, 13% had experienced very early, 34% early and 53% late relapse. Stem cell source was BM for 337 patients (82%), PBSC for 50 patients (12%) or cord blood for 17 patients (4%). Due to significantly inferior outcome with CC, the randomization was stopped in Dec 2018. As of Nov 2019, the 2-year OS was 0.75±0.04 for CC and 0.91±0.02 for TBI/eto (med follow-up 2.1 years, intention to treat p< 0.001). In per-protocol analysis, OS after flu/thio/bu, flu/thio/treo and TBI/eto was 0.77±0.05, 0.77±0.05% and 0.91+0.02 respectively (p=0.003). The 2-year and Kaplan-Meier 5-year estimates for event-free survival (EFS), treatment related mortality (TRM), and cumulative incidence of relapse (CIR) is shown in Table1 and Figure1 respectively.
Table1: Summary of 2-yr outcome
| | | | | |
| --- | --- | --- | --- | --- |
| 2-yr Outcome | TBI/eto | flu/thio/bu | flu/thio/treo | P-value |
| OS | 0.91±0.02  | 0.77±0.05  | 0.77±0.05  | <0.001 |
| EFS | 0.85±0.03  | 0.64±0.06  | 0.58±0.06  | 0.003 |
| TRM | 0.03±0.01  | 0.06±0.03 | 0.12±0.04 | NS |
| CIR | 0.12±0.04 | 0.30±0.05 | 0.31±0.05 | 0.004 |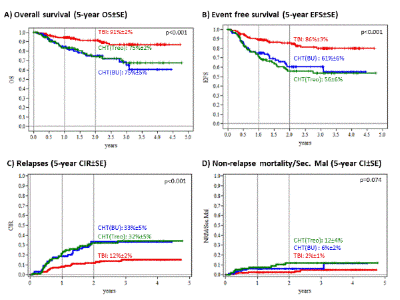 Conclusion

Overall survival in patients ≥ 4 years of age following HSCT from a MSD or MUD with TBI/eto conditioning is superior as compared to chemo-conditioning regimen due to significantly lower relapse-incidence. Busulfan- or treosulfan-based chemo-conditioning regimen including fludarabine and thiotepa are valuable alternative options for patients who are ineligible for TBI either because of age or co-morbidity.  There was no significant difference in 2-yr TRM or incidence of acute and chronic GVHD. Prospective monitoring of late complications, endocrine functions and incidence of secondary malignancies will contribute to better define the advantages and limitations of the 3 conditioning approaches.
Session topic: 22. Stem cell transplantation - Clinical
Keyword(s): Acute lymphoblastic leukemia, Allogeneic stem cell transplant, Conditioning, Total body irradiation