Abstract: EP998
Type: e-Poster
Background
The proteasome inhibitor (PI) bortezomib is commonly used in first-line therapy of AL, but new therapies are needed that are tolerable in the context of multi-organ dysfunction and that, in relapsed/refractory AL (RRAL), offer improved outcomes following prior bortezomib. Ixazomib is an oral PI, and in the international, multicenter TOURMALINE-AL1 trial (NCT01659658), the first phase 3 trial conducted in RRAL, while the first primary endpoint of hematologic overall response rate (ORR) was not met, all clinically relevant time-to-event endpoint data favored ixazomib plus dexamethasone (Ixa-Dex) vs physician's choice (PC; Dispenzieri et al, ASH 2019).
Aims
We report subgroup analyses of ORR and time-to-event outcomes by prior PI exposure in TOURMALINE-AL1.
Methods
RRAL patients with major organ (cardiac and/or renal) involvement and 1–2 prior therapies were randomized (1:1) to Ixa-Dex (n=85) or PC (n=83), which comprised Dex plus lenalidomide (n=47), melphalan (n=24), cyclophosphamide (n=10), or thalidomide (n=2). Randomization was stratified by cardiac stage, relapsed vs refractory disease, and prior PI exposure. Patients could have prior exposure but not be refractory to PI therapy, and enrollment targeted ~50%/50% PI-exposed vs PI-naïve patients. The primary endpoints were hematologic ORR and 2-year rate of vital organ deterioration or death.
Results
Of the 168 patients enrolled, 90 were PI-naïve and 78 PI-exposed; this included 46 and 39 patients in the Ixa-Dex arm, respectively, and 44 and 39 patients in the PC arm, per stratification. Among the PI-exposed patients, 28 and 27 in the Ixa-Dex and PC arms, respectively, had received bortezomib in their last prior line. The hematologic ORR was 63% vs 50% for Ixa-Dex vs PC (odds ratio [OR] 1.71; 95% confidence interval [CI] 0.74–3.96) in PI-naïve patients, and 41% vs 51% (OR 0.66; 95% CI 0.27–1.62) in PI-exposed patients. For time-to-event outcomes, hazard ratios (HRs) were 0.46–0.85 in favor of Ixa-Dex vs PC in both PI-naïve and PI-exposed patients (Table).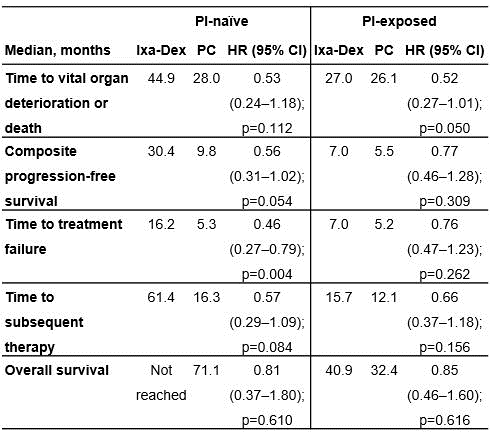 Conclusion
Hematologic ORR was higher with Ixa-Dex vs PC in PI-naïve patients but lower in PI-exposed patients, although these differences were not statistically significant, and long-term clinically relevant outcomes favored Ixa-Dex in both groups. Based on HRs, the magnitude of benefit appeared similar or greater in PI-naïve vs PI-exposed patients. 
Session topic: 14. Myeloma and other monoclonal gammopathies - Clinical
Keyword(s): AL amyloidosis, Clinical trial, Phase III, Proteasome inhibitor