Abstract: EP976
Type: e-Poster
Background
The oral proteasome inhibitor (PI) ixazomib is approved, in combination with lenalidomide (len) and dexamethasone (dex), for the treatment of MM pts who have received ≥1 prior therapy, based on the phase 3 TOURMALINE-MM1 study results (Moreau NEJM 2016). UVEA‑IXA is a European, multicenter, observational, longitudinal cohort study of relapsed/refractory MM pts receiving ixazomib-based therapy at MM specialist centers via an Early Access Program (EAP).
Aims
We report data on pt and disease characteristics, prior therapies, effectiveness (very good partial response [VGPR], overall response rate [ORR] and progression-free survival [PFS]) and safety from the first interim analysis of study pts who received ixazomib via the EAP.
Methods
UVEA-IXA consists of 2 phases: 1) a retrospective chart review; 2) a 1-yr prospective follow-up period from chart review initiation with quarterly data capture (per local regulations); 44 centers in 8 European countries participated in the study. Adult pts in biochemical/symptomatic relapse after 1–3 prior lines of therapy (without other satisfactory treatment options), who were not lenalidomide- or PI-refractory and had an Eastern Cooperative Oncology Group performance status (ECOG PS) of 0–2 were eligible for the EAP. For enrollment into UVEA-IXA, pts' medical charts were required to be available. The primary endpoint was effectiveness, including response (per International Myeloma Working Group criteria) and PFS (estimated using Kaplan‑Meier methodology).
Results
At data cutoff (Sep 30, 2019), 359 pts had been enrolled; 233 were evaluable for analysis. At enrollment, median age was 69 (range 36–92) yrs and 55% of pts were male. At start of ixazomib therapy, 25% of pts had ECOG PS 2, and 30/87 (34%) had International Staging System (ISS) stage III disease. Comorbidities included hypertension (26%), renal disease (24%) and diabetes (10%); 35%/46%/19% of pts received 1/2/3 prior therapies, including (in any line) bortezomib (87%), thalidomide (54%), transplant (49%), melphalan (20%), len (17%) and carfilzomib (5%); data on the most recent line of therapy before ixazomib will be presented. At data cutoff, with a median observation period of 20.4 (range 0.8–40.6) mos, 42% of pts had discontinued the study due to death. Median duration of ixazomib therapy was 11.1 (range 0.1–40.3) mos; ≥94% of pts also received len and dex. Data on best response were available for 177 pts; ORR was 58% (23% ≥VGPR). Median PFS was 16.2 mos (Figure). Ixazomib dose reductions were required in 35/188 (19%) pts, mostly due to adverse events (AEs, 15%), and 134/188 (71%) pts discontinued ixazomib (of these, 42%/17%/23% of pts discontinued due to progression/lack of response/AEs). Rates of any‑grade, grade ≥3 and serious AEs were 36%, 15% and 12%; any-grade diarrhea, thrombocytopenia and nausea/vomiting were reported in 9%, 8% and 5% of pts (1%, 3% and 2% grade ≥3).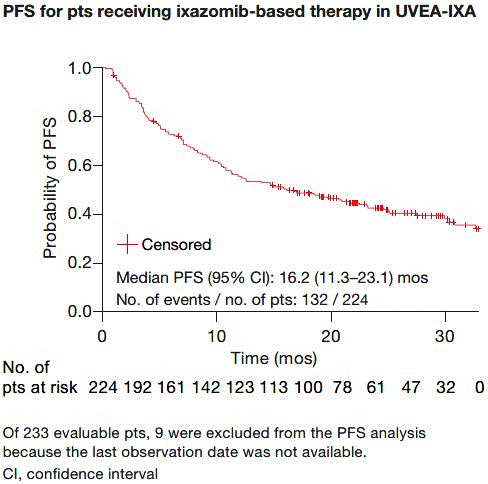 Conclusion
UVEA-IXA pts are older, have a higher rate of advanced stage disease and have received a higher number of prior therapies (median age 69 yrs, 25% ECOG PS 2, 34% ISS Stage III, 65% ≥2 prior therapies) vs TOURMALINE-MM1 study pts (ixazomib arm: median age 66 yrs, 5% ECOG PS 2, 12% ISS Stage III, 38% ≥2 prior therapies). The data suggest that the effectiveness of ixazomib-based therapy outside of a clinical trial setting (ORR 58%, median PFS 16.2 mos) is comparable to the efficacy reported in TOURMALINE‑MM1 (ORR 78%, median PFS 20.6 mos). Common AEs are similar to those reported in TOURMALINE‑MM1; safety data may be underreported due to the retrospective/infrequent prospective collection schedule.
Session topic: 14. Myeloma and other monoclonal gammopathies - Clinical
Keyword(s): Clinical outcome, Multiple myeloma, Proteasome inhibitor