Abstract: EP967
Type: e-Poster
Background
MM causes immune dysfunction and thus makes pts more susceptible to vaccine-preventable infections (eg influenza and S. pneumoniae), which represent a major cause of hospitalization and death. Infection rates are increasing in MM due to an increase in life expectancy and prolonged therapy with novel anti-MM agents, which may contribute to immunosuppression. Influenza (FV) and pneumococcal (PV) vaccinations are recommended in MM pts; however, their effectiveness in MM is poorly characterized, and recent studies showed that vaccination in MM pts is underutilized (Alemu JPCRR 2017; Thompson ASCO 2020).
Aims
We report data on FV and PV status and associated healthcare resource utilization (HRU) and overall survival (OS) for MM pts enrolled in the global, prospective, observational INSIGHT MM study (NCT02761187) between Jul 2016 and Jun 2019.
Methods
INSIGHT MM aims to describe MM pt and disease characteristics at diagnosis and relapse, treatment patterns, safety and effectiveness of current treatments, quality of life, and HRU. INSIGHT MM has enrolled 4318 MM pts from 15 countries worldwide; pts are being followed up prospectively for ≥5 yrs. Vaccination status data are collected at study entry and yearly. We report data on vaccination rates, HRU, and OS.
Results
At data cutoff (Sep 1, 2019), study entry data on FV and PV status were available for 2562 and 2523 pts; of these, 40% and 30% of pts had received FV in the past yr and PV in the past 5 yrs, with marked regional variations (FV 56%/38%/27%/4% and PV 43%/28%/21%/5% in US/Europe/Latin America/Asia). Median age at study entry was 69 vs 66 yrs (23% vs 16% aged ≥75 yrs) for pts with optimal (annual) FV vs no FV, and 68 vs 65 yrs (20% vs 15% aged ≥75 yrs) for pts with PV vs no PV. Among pts with optimal FV vs no FV, 6% vs 8% had hypercalcemia, 10% vs 12% had renal impairment (RI, creatinine clearance <30 mL/min), and 49% vs 57% had anemia; 1% vs 8%, 7% vs 11%, and 42% vs 56% of PV vs no PV pts had hypercalcemia, RI, and anemia. Lack of FV was associated with higher rates of hospitalization and hospital admissions due to infections; overall rates of emergency room (ER) and intensive care unit (ICU) visits were higher in pts with optimal FV vs no FV, but rates of ER and ICU visits due to infections were similar or lower in pts with optimal FV vs no FV; PV did not reduce HRU on univariate analysis (Table). Multivariate analysis by Cox proportional hazards model showed that vaccination status (FV and PV) significantly impacted OS when adjusted for age, region, and Eastern Cooperative Oncology Group performance status (Table). Infections were the cause of death in: 19% (43/226) / 8% (9/108) of pts who did not receive FV / received FV in the past 2 yrs (P=0.018); 19% (46/236) / 9% (9/100) of pts who did not receive PV / received PV in the past 5 yrs (P=0.027); and 7%/15%/20%/40% of all pts who died in US/Europe/Latin America/Asia (P<0.0001).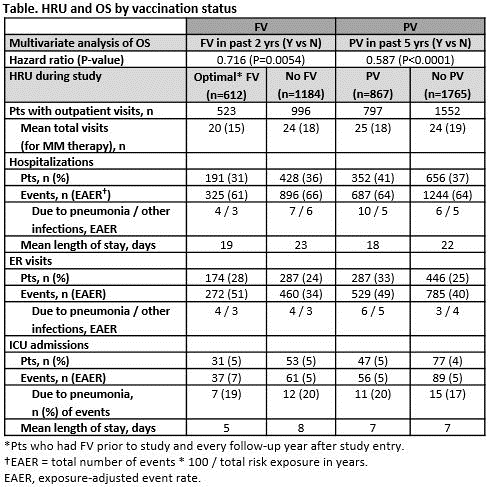 Conclusion
Global FV and PV rates in MM pts were low and varied by region: Asia had the lowest vaccination rate, as well as the highest death rate due to infections. Vaccinated pts were older, and pts lacking vaccination had higher rates of hospitalization due to infections (FV); vaccination status was an independent prognostic factor for OS on multivariate analysis (FV and PV). Additional global MM datasets should be analyzed to confirm the results and assess the effectiveness of FV and PV in MM pts. As vaccination may impact on OS, prospective MM clinical trials should incorporate collection of data on vaccination status. Vaccination is important in MM and should be encouraged.
Session topic: 14. Myeloma and other monoclonal gammopathies - Clinical
Keyword(s): Infection, Multiple myeloma, Supportive care, Vaccination