Abstract: EP933
Type: e-Poster
Background

The Revised-ISS (R-ISS) is a risk stratification model for newly diagnosed (ND) multiple myeloma (MM) integrating International Staging System (ISS), high risk chromosomal abnormalities [del(17), t(4;14) or t(14;16)] and LDH. Yet, 60% of patients (pts) are considered as intermediate-risk (R-ISS2), possibly including pts with different risk of progression/death. We previously showed that t(14;16) was not an independent predictor of survival within the R-ISS and we identified other features currently not included in the R-ISS [amp(1q), IgA isotype, impaired renal function, poor performance status] predicting a worse OS (D'Agostino et al. ASH 2019).
Aims

Our aim was to develop an improved prognostic scoring system for NDMM.
Methods
Data from 14 European clinical trials enrolling NDMM pts were collected through the European Myeloma Network and registered in HARMONY platform, a European public-private partnership focusing on hematologic malignancies with unmet medical needs. OMOP Common Data Model was used to harmonize data. All pts received an immunomodulatory agent (IMiD) and/or a proteasome inhibitor (PI) upfront. In a multivariate Cox regression analysis adjusted for age, sex and therapy, the impact of each risk feature on pts' survival was evaluated. The hazard ratio for death of each variable was used to create an additive risk score.
Results

1258 pts had complete data on the analyzed risk features and were included in the analysis. Median follow-up was 72 months; median age was 62 years. The majority of pts were transplant-eligible (71%). 40% received IMiDs only, 19% PIs only, 41% both drug classes.
In a multivariate Cox model, ISS2 (HR 1.72, p<0.001), ISS3 (HR 2.14, p<0.001), del(17p) (HR 1.77, p<0.001), t(4;14) (HR 1.52, p<0.001), amp(1q) (HR 1.48, p<0.001), high LDH (HR 1.52, p<0.001) and poor performance status (ECOG >1 or Karnofsky <80, HR 1.63, p<0.001) confirmed to be independent OS predictors, while IgA isotype (HR 1.03, p=0.77) and impaired renal function (creatinine clearance ≤45 ml/min, HR 1.21, p=0.11) did not.
Among these, we selected only disease-related factors and exploited their impact on OS to create a scoring system (Table 1).
Pts were stratified into 4 groups with significantly different OS (Figure 1A) and PFS (Figure 1B): Low [(n=232 (18.4%), score 0)], Low-Intermediate [(n=384 (30.5%), score 0.5-1], Intermediate-High [(n=525 (41.7%), score 1.5-2.5] and High [(n=117 (9.3%), score 3-5].
Median OS was not reached vs 91.7 vs 63.8 vs 32.2 months and median PFS was 62.5 vs 38.7 vs 27 vs 18.2 months in the above 4 risk groups, respectively.
R-ISS2 pts (n=770) were reclassified into Low-intermediate (n=289), Intermediate-High (n=456) and High risk (n=25) groups, thus confirming that this wide group included pts with a different risk of progression and/or death. 
The new risk stratification maintained its prognostic value in transplant-eligible, transplant-ineligible, IMiD-treated and PI-treated pts.
The survival disadvantage of Low-Intermediate vs Low risk pts was overcome in pts treated with a first-line therapy including a PI and an IMiD (HR 1.21, p= 0.513), while High-intermediate and High risk group still showed a dismal survival.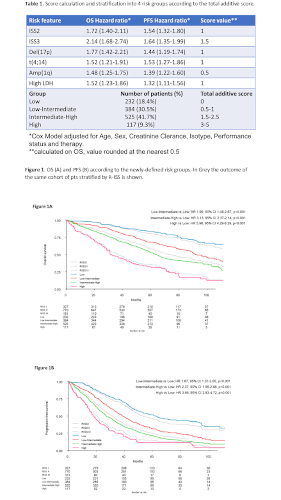 Conclusion

Our new scoring system improves risk stratification in NDMM, representing a possible first step towards a risk-adapted approach. Such additive risk score easily allows the inclusion of new prognostic variables in the future. Validation in an independent cohort is ongoing.
Session topic: 14. Myeloma and other monoclonal gammopathies - Clinical