Abstract: EP932
Type: e-Poster
Background
MRD status has become one of the most relevant prognostic factors for patients with NDMM, with growing support for its role as an endpoint of induction and treatment intensification. In addition, there is great interest in using MRD to guide the intensity and duration of treatment; however, MRD data in disease settings such as maintenance are limited, with most studies being conducted in small series of patients and without treatment randomization. Furthermore, MRD has been traditionally assessed at a single time point, and it could be hypothesized that evolving MRD kinetics based on multiple evaluations are critical for optimal risk-stratification and therapeutic intervention.
Aims
To assess the impact of evolving MRD kinetics on the primary endpoint of progression-free survival (PFS) in the TOURMALINE-MM3 trial.
Methods
NDMM patients with partial response (PR) or better to proteasome inhibitor and/or immunomodulatory drug induction therapy followed by a single transplant were randomized (3:2) to ixazomib vs placebo for up to 2 years (26 cycles). A total of 1,275 bone marrow aspirates were collected for MRD evaluation at screening, cycle 13, and cycle 26/end of treatment from all patients with very good PR (VGPR) or complete response (CR), and at confirmation of new suspected CR. MRD status was determined using 8-color flow cytometry (10-5 sensitivity). For each time point, ongoing patients in

Results
Based on evolving MRD kinetics measured at the start of, during, and at the end of fixed-duration maintenance, 582 patients were classified as having sustained undetectable MRD (n=88; MRD– to MRD–), conversion from MRD+ to MRD– (n=41) or from MRD– to MRD+ (n=88), or persistent MRD (n=365; MRD+ to MRD+). Median PFS was not reached in patients converting from MRD+ to MRD– and in patients with sustained undetectable MRD (Figure), supporting undetectable MRD as a treatment endpoint in this setting. PFS was prolonged with ixazomib vs placebo in patients converting from MRD+ to MRD– (HR 0.104; p=0.01). PFS was dismal and similar in patients converting from MRD– to MRD+ and in those with persistent MRD throughout maintenance (median PFS of 22.3 and 20.2 months, respectively, Figure), although PFS was prolonged with ixazomib vs placebo in the latter group (HR 0.745, p=0.02). These results suggest the need for additional/alternative treatment strategies in patients with post-transplant persistent MRD, and for periodic monitoring of MRD status during maintenance to uncover possible MRD reappearance before clinical relapse. Accordingly, failure to achieve or maintain MRD– status resulted in a >8-fold increased risk of progression and/or death (HR 8.44; 95% CI, 5.3–13.4; p<0.001). Patient- and treatment-related factors associated with evolving MRD kinetics during maintenance are also being analyzed and will be reported.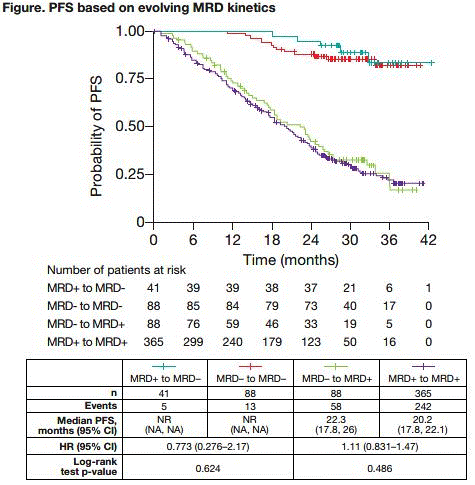 Conclusion
This is one of the largest studies with longitudinal MRD assessment in the maintenance setting. Our analyses of data from the randomized phase 3 TOURMALINE-MM3 study confirm the dismal PFS of patients with reappearing or persistent MRD while demonstrating the clinical benefit of ixazomib maintenance in this setting. Overall, this study supports undetectable MRD as an endpoint of maintenance therapy, and underpins the importance of periodic MRD assessment for guiding the intensity and duration of treatment.

Session topic: 14. Myeloma and other monoclonal gammopathies - Clinical

Keyword(s): Maintenance, Minimal residual disease (MRD), Multiple myeloma, Proteasome inhibitor