Abstract: EP816
Type: e-Poster
Background
 
Aims

The objectives of this study were to describe longitudinal changes in health-related quality of life (HRQoL) in lower-risk MDS patients and to compare the time course among subjects who were, neither treated with erythropoietin stimulating agents (ESA) nor red blood cell transfusions (RBCT),  received ESA or RBCT alone, or received both ESA and RBCT. 
Methods

The EUMDS Registry is a prospective, non-interventional longitudinal study initiated in 2008, initially enrolling newly diagnosed patients with IPSS low or intermediate-1 MDS from 16 European countries and Israel. Patient management is recorded electronically every 6 months in a central database, including treatment options, number of transfusions, blood parameters, and patient-reported HRQoL data, using the EQ-5D Index and Visual Analog Scale (VAS). Included patients were enrolled before 01 July 2017 and last censoring of data was September 2019. 
Patients were separated into 4 groups at each clinical visit, depending on the treatment received in the interval preceding their latest visit; Neither ESA nor RBCT, ESA only, RBCT only, and both ESA and RBCT. We analysed the patients longitudinally over time, and according to the ESA and RBCT status during each interval between 2 consecutive visits.
Results

Overall, 2273 patients with lower-risk MDS were included in the study. Figure 1a shows the average EQ-5D measured by visit number over time, stratified by group membership, where membership could be dynamic from visit to visit, as individual patients changed group during the study. Importantly, patients not being treated with ESA or RBCT at any time period had the highest HRQoL. Untransfused patients treated with ESA initially showed increased HRQoL, followed by a stable period and a small decline. Patients continuously receiving RBCT +/- ESA exhibit a gradual decline in QoL over time. Figure 1b shows the change in mean scores, when individual patients transition from group to group, in consecutive visits, averaged for all patients' visit-to-visit transitions during follow up. 
A second analysis focused on patients with available EQ5D Index and VAS scores, who received ESA but no RBCT at any of the first three visits (n= 718). In this group, there was a clear increase in EQ-5D VAS in the first interval, corresponding to an increase in Hb level. By contrast, patients receiving RBCT with or without ESA, showed no evidence of improving EQ-5D VAS or Hb measurements.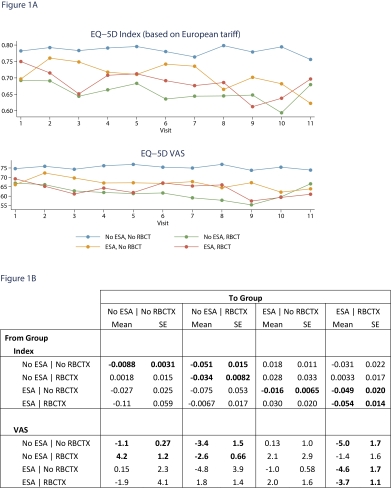 Conclusion

Lower-risk MDS patients without a need for ESA or transfusions had the best HRQoL. Patients receiving ESA prior to RBCT showed an increase in Hb, EQ-5D, and VAS. Patients receiving RBCT alone showed no improvement in HRQoL. All patients exhibited a decline in HRQoL over time, which was most pronounced in patients receiving RBCT.
These data support starting ESA treatment prior to the initiation of a regular transfusion need. The data also indicate the importance of registering RBCT longitudinally, in order to maintain or improve HRQoL in regularly transfused patients.
Session topic: 10. Myelodysplastic syndromes - Clinical
Keyword(s): Erythropoietin, MDS, Quality of life, Transfusion