Abstract: EP750
Type: e-Poster
Background
Bosutinib is approved for patients with Philadelphia chromosome (Ph)+ chronic myeloid leukemia (CML) resistant/intolerant to prior therapy and in newly diagnosed patients in chronic phase (CP).
Aims
To evaluate the efficacy and safety of bosutinib in patients with CML intolerant to all prior tyrosine kinase inhibitors (TKIs).
Methods
The ongoing phase 4 BYOND study (NCT02228382) is further evaluating efficacy and safety of bosutinib (starting dose 500 mg/d) for CML resistant/intolerant to prior TKIs. We report findings in patients intolerant to all prior TKIs. Data are reported ≥1 y after the last enrolled patient (~85% TKI-intolerant patients had ≥2 y follow-up).
Results
Of 163 patients who received bosutinib, 156 had Ph+ CP CML. 73 patients entered the study due to intolerance; 29, 26 and 18 had 1 (CP2L), 2 (CP3L) and 3 (CP4L) prior TKIs, respectively. After a median follow-up of 30.4 months, median treatment duration across all 3 cohorts (CP2L, CP3L, CP4L, respectively) was 25.3 months (29.2, 24.6, 17.6) and median dose intensity was 292.0 mg/d (304.5, 284.8, 272.1). Across CP CML cohorts (CP2L, CP3L, CP4L, respectively), 84.9% of patients (82.8%, 88.5%, 83.3%) had ≥1 dose reduction and 83.6% (79.3%, 84.6%, 88.9%) had ≥1 dose interruption due to adverse events (AEs). At the data cutoff, 53.4% (CP2L 65.5%, CP3L 42.3%, CP4L 50.0%) were still receiving bosutinib. The most common reason for discontinuation was AEs (28.8%). The most common (>40%) treatment-emergent AEs (TEAEs) were diarrhea (87.7%) and nausea (43.8%). Grade 3/4 TEAEs in >10% of patients were diarrhea (16.4%), increased alanine aminotransferase (19.2%) and increased lipase (12.3%). Most patients with a valid baseline assessment achieved cytogenetic and molecular responses across therapy lines (Table). Deaths occurred in 4 patients (CP2L 1, CP3L 3, CP4L 0); none were related to bosutinib or CML. Overall survival rate (95% CI) at 2 y in TKI-intolerant patients was 97.2% (89.2–99.3); rates were 96.4% (77.2–99.5), 96.0% (74.8–99.4) and 100% (100–100) in CP2L, CP3L and CP4L patients, respectively.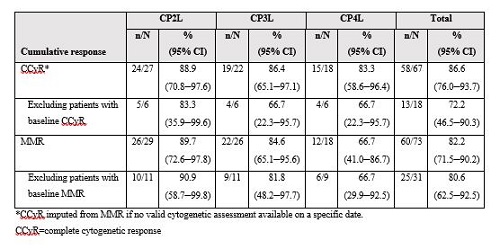 Conclusion
A long duration of treatment and high response rate were observed in TKI-intolerant patients treated with bosutinib. Despite being intolerant to all prior therapies, ≥50% of patients in the overall intolerant cohort remained on bosutinib treatment at the data cutoff and >80% achieved/maintained major molecular responses (MMR). These results further support bosutinib use in patients with Ph+ CP CML and intolerance to all prior TKIs. 
Session topic: 08. Chronic myeloid leukemia - Clinical
Keyword(s): Chronic myeloid leukemia, Clinical trial, Philadelphia chromosome, Tyrosine kinase inhibitor