Abstract: EP691
Type: e-Poster
Background
Fixed-duration Ven plus rituximab (VenR for 6 cycles, then Ven to complete 2 years), has a manageable safety profile and improves survival in patients (pts) with R/R CLL. However, premature discontinuation/interruption of therapy are necessary in some pts.
Aims
We present new analyses of the Phase III MURANO study on the impact of Ven premature discontinuation/interruption on outcomes in pts with R/R CLL.
Methods
Time-dependent Cox proportional hazards regression models, stratified by the presence of 17p deletion and disease risk status, evaluated the impact of Ven premature discontinuation/interruption on investigator-assessed progression-free survival (PFS) and overall survival (OS). Analyses were performed retrospectively (without type-1 error control) in intent-to-treat pts with R/R CLL from the fixed-duration VenR arm of the Phase III MURANO study (NCT02005471; data cut-off May 8, 2019).
Results
140/194 pts (72%) in the VenR arm completed 2 years of therapy; 10 of these pts were confirmed to have PD prior to completion of Ven. Early discontinuation occurred in 54/194 (28%) pts; 29 (15%) for adverse events (AEs), 12 (6%) for disease progression (PD) and 13 (7%) for other reasons (withdrawal [5], physician decision [3], death [2], other [2] and non-compliance [1]). The most common AEs resulting in treatment discontinuation were neutropenia (6/54; 11%) and thrombocytopenia (5/54; 9%).
Best clinical response for pts who discontinued early due to AEs was: 3 (10%) complete response (CR), 2 (7%) CR with incomplete marrow recovery, 17 (59%) partial response (PR), and 1 (3%) nodular PR. Best minimal residual disease (MRD) response was: 18 (62%) undetectable MRD (uMRD), 3 (10%) MRD positive, and 8 (28%) missing.
Most early discontinuations occurred after completion of the combination therapy phase (39/54, 72%). Of 15 pts discontinuing during combination therapy, 9 (60%) did so due to AEs. Discontinuations due to AEs were more common earlier in treatment (34%, 10/29 at Cycle ≤6 vs 21%, 6/29 at >Cycle 18), whilst discontinuations due to PD were more common later (50%, 6/12 at Cycle >18 vs 8%, 1/12 at Cycle ≤6). Median duration of Ven treatment for pts discontinuing due to AEs and PD was 11.3 (0.5–24.6) and 17.1 (4.6–25.1) months, respectively (p=0.08), whilst discontinuation due to other reasons was 8.5 (0.3–24.5) months.
Median PFS and median OS for those with early discontinuation for any reason except PD was 24.3 (95% CI 20.8–31.9) and not estimable (NE; 95% CI 24.3–NE) months, respectively. Inferior PFS was observed in pts who discontinued Ven early for any reason (apart from PD) or due to AEs, versus the remaining pts (Table). Risk of a PFS/OS event was significantly reduced by each extra month (exposure cycle) of Ven therapy (PFS: HR 0.93, 95% CI 0.88–0.99, p=0.0168; OS: HR 0.85, 95% CI 0.79–0.92, p<0.0001).
Treatment interruption for AEs occurred in 134/194 (69%) pts, most commonly due to neutropenia (84/194; 43%), per protocol requirements. Median duration of interruption was 9 (1–93) days. Treatment interruption, regardless of duration, had no impact on PFS or OS (Table). 36 (19%) pts who had interruptions later discontinued Ven prematurely.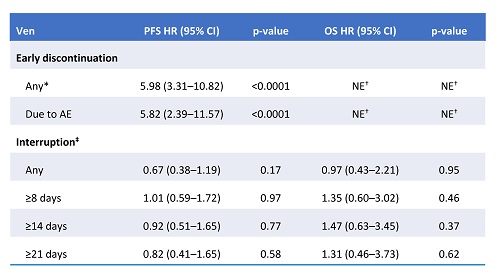 Conclusion
In MURANO, early Ven discontinuation was associated with suboptimal outcomes, whilst Ven interruption was not. These data highlight the importance of effective management of AEs with treatment interruption to allow pts to continue Ven and avoid the negative impact of treatment discontinuation on outcomes.
Session topic: 06. Chronic lymphocytic leukemia and related disorders - Clinical
Keyword(s): Chronic lymphocytic leukemia, Phase III, Survival, Targeted therapy