Abstract: EP639
Type: e-Poster
Background
Mutation of FLT3 in relapsed or refractory (R/R) AML results in poor prognosis. Additionally, due to the rise in FLT3 ligand levels observed following chemotherapy regimens, even patients with FLT3-wildtype R/R AML may benefit from FLT3 inhibition. Single agent FLT3 tyrosine kinase inhibitors (TKI) have yielded only transient results in this population. Therefore, combining a FLT3-TKI with standard salvage chemotherapy may provide maximum benefit to patients. Many TKIs have attempted to combine with standard chemotherapy and require reduced doses and/or shortened schedules. Crenolanib, a potent pan-FLT3 inhibitor with a favorable pharmacokinetic profile in single agent studies, is a promising agent for combination therapy due to its short half-life and predictable absorption. We here report a study on the safety of crenolanib in combination with standard salvage chemotherapy.
Aims
To assess the safety and tolerability of crenolanib at the target dose when combined with HAM, FLAG-Ida, or MEC in relapsed/refractory AML.  
Methods
This was a multi-center, open label, Phase Ib pilot trial of crenolanib in combination with salvage chemotherapy (NCT02626338). Patients with relapsed/refractory AML after first-line treatment were enrolled and given physician's choice of HAM, FLAG-Ida, or MEC salvage. Patients received 100 mg TID crenolanib starting 24-48 hours after the last dose of chemotherapy and continuing until the end of the induction cycle (not to exceed 60 days). Patients could receive up to 2 cycles of chemotherapy and were then followed for 30 days for safety. This study did not require FLT3 mutation. Correlative studies on the levels of FLT3 ligand were also carried out. CRi was defined as <5% bone marrow blasts, no peripheral blasts and recovery of neutrophils or platelets. CRh was defined as <5% bone marrow blasts, no peripheral blasts with partial recovery of both neutrophils (> 500 ANC/
Results
A total of 16 patients were enrolled and treated (5 with FLT3 mutations): 9 received HAM; 6 received FLAG-Ida, and 1 received MEC. The median age was 65 (31-78), and nearly half the population (7) was refractory to first-line treatment. The median duration of remission for patients who achieved a CR to prior therapy was 6 months (1-23). 1 patient had received a prior transplant. No patients required a dose reduction of crenolanib, confirming the target dose of 100 mg TID. There were 3 on-study deaths, none were related to crenolanib. The overall response rate was 50%. Patients with FLT3 mutations had a higher response rate of 100% while the response rate among FLT3-wt patients was 36%, which is comparable to historical data. Six patients (37%) were bridged to transplant, and one patient who was ineligible for transplant received long-term crenolanib maintenance after achieving CR.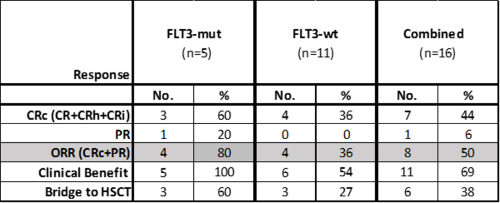 Conclusion

This was the first safety study combining crenolanib with standard salvage chemotherapy. The target dose of 100 mg TID crenolanib was shown to have a good safety and tolerability profile in this setting. Crenolanib could be administered continuously, allowing for sustained inhibition of FLT3 signaling. These results indicate that combining crenolanib with standard salvage chemotherapy could provide increased benefit, with no significant increase in toxicity, to patients with relapsed/refractory AML.  
Session topic: 04. Acute myeloid leukemia - Clinical
Keyword(s): FLT3, Refractory, Relapsed acute myeloid leukemia