Abstract: EP1019
Type: e-Poster
Background
Treatment for multiple myeloma (MM) aims to obtain disease remission, relief of symptoms, reduce risk of complications, extend time to progression, prolong survival, and improve quality of life. However, knowledge regarding MM treatment is gained primarily from randomized, controlled trials. Further investigation of treatment patterns and outcomes in a real-world setting is needed.
Aims
HUMANS used data from nationwide registers in Nordic countries to characterize treatment patterns, healthcare resource utilization (HRU), and clinical outcomes in patients with newly diagnosed multiple myeloma (NDMM). We report results from Denmark, Sweden, and Finland.
Methods
This population-based, retrospective, longitudinal, observational study used linked secondary data from national patient, prescription drug, cancer, and cause-of-death registers. To analyze recent treatment patterns, eligible patients had first MM diagnosis from 2005‒2017 (2016 for Denmark) (baseline), first MM-specific treatment from 2010‒2017 (2018 for Denmark), and no other hematologic cancer records in any register. Patients were stratified by autologous stem cell transplantation (ASCT) and non-ASCT first-line treatment (bortezomib-based, lenalidomide-based, melphalan-prednisolone-thalidomide [MPT], or other). Treatment duration (time between treatment start and end), and overall survival (OS) were estimated by the Kaplan-Meier method. HRU included outpatient visits/inpatient stays (days), and cost (in Euros, based on diagnostic-related codes) standardized per patient per month.
Results
Patients from Denmark (N=2451), Sweden (N=4494), and Finland (N=1585) were included. The proportion of men was 57% (Denmark and Sweden) and 50% (Finland). Use of ASCT as first-line treatment was comparable in the three countries. In the non-ASCT treated population bortezomib-based treatment was used more frequently than lenalidomide-based treatment or MPT (see Table). Bortezomib-based treatment was used more frequently in Denmark and Finland than in Sweden. Lenalidomide-based treatment was used more frequently in Finland. Concomitant medications included opioids, antibiotics, heparin, antiepileptics, and antidepressants. First-line treatment duration was longer in Denmark for both bortezomib- and lenalidomide-based treatment. OS from treatment initiation and cost were greater for bortezomib- than lenalidomide-based treatment in all countries.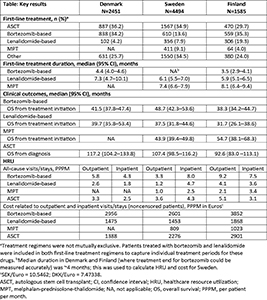 Conclusion
In this real-world setting in Nordic countries, HUMANS showed that bortezomib-based treatment was the most frequently used first-line treatment in patients with NDMM that were not treated with ASCT, which reflects clinical guidelines. For HRU, outpatient/inpatient visits were generally more frequent with bortezomib-based treatments. For clinical outcomes, OS from treatment initiation was greater for bortezomib-based treatments. 
Session topic: 14. Myeloma and other monoclonal gammopathies - Clinical
Keyword(s): Multiple myeloma