Abstract: EP568
Type: e-Poster
Background
In patients (pts) with acute myeloid leukemia (AML), mutations in FLT3 confer a poor prognosis. Midostaurin, a multikinase inhibitor that targets FLT3 and other kinases, is approved for the treatment of adult pts with newly diagnosed, FLT3-mutated AML. The phase 3 RATIFY study demonstrated improved survival with the addition of midostaurin to standard chemotherapy (chemo) in younger adults (aged <60 y) with newly diagnosed, FLT3-mutated AML. To further evaluate the safety and efficacy of midostaurin in FLT3-mutated AML, a phase 3b (NCT03379727) study was initiated that allowed for enrollment of older (≥60 y) pts and variations in chemo regimens, including idarubicin or daunorubicin for 7+3 or 5+2.
Aims
To report interim pt characteristics and safety data from an ongoing, phase 3b study.
Methods
This is an ongoing, open-label, single-arm, multicenter, phase 3b study in adults who are fit for chemo with newly diagnosed AML, ECOG performance status of ≤2, and a documented FLT3 ITD or TKD mutation. Pts must start their first induction chemo cycle with 7+3 (cytarabine [Ara-C] 100-200 mg/m2/d on d1-7 + daunorubicin 60-90 mg/m2/d or idarubicin 12 mg/m2/d on d1-3) or 5+2 (a reduced-dose regimen with these agents) per investigator's discretion and enroll by day 7 of the first induction cycle. Pts are assigned to the 7+3 group if their Ara-C duration is ≥7 days, independent of daunorubicin/idarubicin duration, and to the 5+2 group in other cases. Pts may not switch once started on 7+3 or 5+2. Pts receive consolidation with Ara-C (dose per investigator's choice). Midostaurin 50 mg bid is administered on days 8-28 of each 28-day induction and consolidation cycle and daily for ≤12 cycles of maintenance. Pts are discontinued from the study if not in complete remission (CR) or CR with incomplete hematologic recovery (CRi) at the end of induction or consolidation or if they receive a stem cell transplant (SCT). The primary and secondary endpoints are safety and the proportion of pts achieving CR/CRi, respectively.
Results
As of 28 January 2020, study enrollment was closed with 302 pts in Europe; this analysis is focused on 269 pts with available data (cut-off date 15 November 2019). Most pts were female (52.8%) and white (77.3%), with a median age (range) of 59.0 (19-85) y; 48.3% of pts were ≥60 y. Most pts had the FLT3-ITD mutation (84.8%), and 16.7% had FLT3-TKD. The majority of pts (80.7%) were treated with midostaurin plus standard 7+3 and 19.3% received 5+2. Overall, 34.2% pts ≥60 y and 46.5% <60 y received 7+3 and 14.1% ≥60 y and 5.2% <60 y received 5+2. A majority of pts received idarubicin (53.5%), and 45.7% received daunorubicin.
Of 269 pts, 99.6% entered induction, 66.2% entered consolidation, and 23.8% entered maintenance; 23.4% of pts received SCT (rates by phase: induction, 1.1%; consolidation, 20.4%; and maintenance, 1.9%).
Overall, 202 pts (75.1%) experienced a treatment-related adverse event (TRAE; ≥60 y, 78.5%; <60 y, 71.9%); 141 (52.4%) experienced a grade ≥3 TRAE (≥60 y, 55.4%; <60 y, 49.6%). The most common TRAEs (incidence ≥5%) are shown in the table. A total of 55 pts (20.4%) experienced a serious TRAE (≥60 y, 23.1%; <60 y, 18.0%), 20 (7.4%) discontinued the study due to a TRAE (≥60 y, 7.7%; <60 y, 7.2%), and 23 (8.6%) died during the study (≥60 y, 4.6%; <60 y, 2.9%).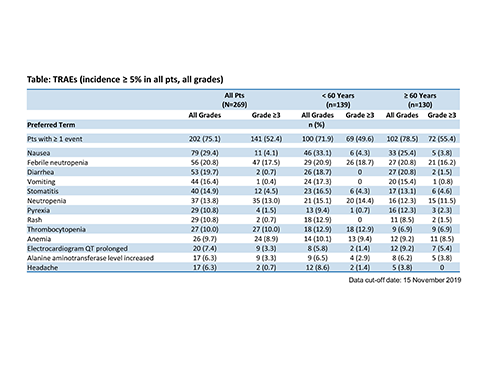 Conclusion
Interim results show that independent of age, most pts received the standard 7+3 regimen (80.7%). Safety findings were consistent in younger and older pts, with no new safety signals identified, and in line with what has been previously reported.
Session topic: 04. Acute myeloid leukemia - Clinical
Keyword(s): Acute myeloid leukemia