Abstract: EP561
Type: e-Poster
Background
Standard treatment (Tx) with intensive induction chemotherapy (IC) for AML induces complete remission (CR) in 60%–80% of patients (pts) aged ≤60 years and in 40%–60% of pts aged >60 years. However, about two-thirds of pts relapse after frontline therapy and most relapses occur within the first 18 months (Yilmaz, Blood Cancer J, 2019). Effective AML maintenance Tx should decrease the risk of relapse by suppressing growth of post-induction residual leukemic cells. CC-486 is an oral hypomethylating agent that allows for extended dosing schedules (>7 days [d]/28d cycle) to sustain therapeutic activity. In the phase III international, randomized, double-blind QUAZAR AML-001 trial (NCT01757535), CC-486 significantly prolonged overall survival (OS) and relapse-free survival vs. placebo (PBO) in pts with AML in first remission following IC, who were not candidates for hematopoietic stem cell transplant (HSCT). Pts initially received CC-486 or PBO for 14d/28d cycle, but pts identified to have early AML relapse with 5–15% blasts in peripheral blood or bone marrow could receive an escalated 21d/cycle dosing schedule.
Aims
To evaluate clinical outcomes in pts in QUAZAR AML-001 who developed 5–15% blasts on-study and then received escalated 21d/cycle dosing of study drug.
Methods
Pts were aged ≥55 years, had intermediate- or poor-risk cytogenetics and ECOG PS scores ≤3, and achieved a first CR or CR with incomplete hematologic recovery (CRi) after IC ± consolidation. Within 4 months of achieving CR/CRi, pts were randomized 1:1 to receive once-daily CC-486 300 mg or PBO on d 1–14 of 28d Tx cycles. CR/CRi status was assessed centrally every 3 cycles. Pts who developed 5%–15% blasts in blood or bone marrow could receive study drug for 21d/cycle at the investigator's discretion. Tx could continue until >15% blasts, unacceptable toxicity, or HSCT. 
Results
91 patients (CC-486, 51/238 [21%]; PBO, 40/234 [17%]) were identified as having early AML relapse with 5–15% blasts and were assigned to receive 1 or more 21d/cycle dosing schedule. Median time to dose escalation of CC-486 was 9.2 months (range 1.0–52.7) and of PBO was 6.0 months (0.5–19.3). Median number of 21d dosing cycles was 2.0 in both the CC-486 (range 1–45) and PBO (1–16) arms, but proportionally more pts in the CC-486 arm received >3 cycles of 21d dosing (CC-486 43%, PBO 18%). Among 78 evaluable pts (ie, their most recent bone marrow on or before d1 of 21d dosing had ≥5% blasts), 10/43 (23%) in the CC-486 arm and 4/35 (11%) in the PBO arm regained CR/CRi (central review) during dose escalation. Median OS from time of randomization was 22.8 months vs. 14.6 months with CC-486 vs. PBO, respectively (HR 0.66 [95%CI 0.42, 1.0]; P=0.073), and 1-year survival rates were 80.4% vs. 59.5% (+20.9% [2.1, 39.7]).
The most common adverse events first reported during 21d dosing were febrile neutropenia (CC-486 24%, PBO 3%), thrombocytopenia (22%, 23%), anemia (22%, 20%), and neutropenia (20%, 10%) (Table). Dose-escalation did not lead to detrimental effects on pt-reported quality of life measures (FACIT-Fatigue and EQ-5D-3L) vs. PBO.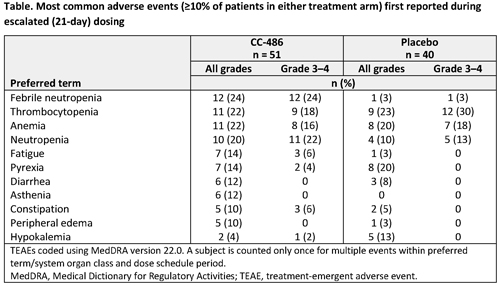 Conclusion
Escalated 21d CC-486 dosing was well tolerated and resulted in restoration of remission in approximately one-fourth of pts. Hematologic AEs first reported during escalated dosing in both Tx arms may be due in part to disease relapse. A 21d dosing schedule should be considered for pts receiving CC-486 who experience relapse with ≤15% blasts.
Session topic: 04. Acute myeloid leukemia - Clinical
Keyword(s): Acute myeloid leukemia, Azacitidine, Elderly, Maintenance