Abstract: EP551
Type: e-Poster
Background
The BCL-2 family member MCL-1 is upregulated in AML, leading to leukemia cell survival. Alvocidib, a potent cyclin-dependent kinase 9 (CDK9) inhibitor, downregulates expression of MCL-1. Alvocidib has shown clinical activity in newly diagnosed and relapsed/refractory AML in the context of a timed sequential therapy regimen with cytarabine and mitoxantrone. However, alvocidib has not been formally studied within a 7+3 regimen for newly diagnosed AML.
Aims
The primary objective of this study is to determine the maximum tolerated dose (MTD) and recommended phase 2 dose (RP2D) of alvocidib followed by 7+3 in newly diagnosed AML.
Methods
A multicenter, open-label, dose-escalation, safety and biomarker study of alvocidib followed by 7+3 induction therapy was conducted for adults with newly diagnosed AML. Eligible patients (pts) included ages 18-65 years with untreated AML (excluding core-binding factor and acute promyelocytic leukemia) with an ECOG performance status 0-2 and without major organ dysfunction.  After informed consent, alvocidib was administered IV days 1-3, beginning at dose level 1 (20 mg/m2 as 30-minute IV bolus, followed by 30 mg/m2 over 4 hours). All pts received 7+3 starting on day 5 (cytarabine 100 mg/m2/day continuous IV infusion days 5-11, daunorubicin 60 mg/m2 IV/day 5-7). Reinduction with alvocidib (same dose as induction) was recommended for pts with >10% cellularity and >5% blasts on a day 14 bone marrow biopsy. The MTD was assessed by standard 3+3 design. Assessment of measurable residual disease (MRD) analysis was conducted locally on the first 22 pts and centrally via flow cytometry (Hematologics, Inc.) with a sensitivity of <0.5% total nucleated cells (n=12).
Results
Thirty-two pts (Table 1) were enrolled in the study. No dose-limiting toxicities (DLTs) were seen during dose escalation or expansion of alvocidib up to maximum dose level of 30 mg/m2 IV bolus followed by 60 mg/m2 IV over 4 hours. The most common NCI CTCAE ≥ Grade 3 treatment emergent nonhematologic AEs noted in ≥3 pts were diarrhea (43.8%), hypokalemia (31.3%) and tumor lysis syndrome (31.3%), all of which resolved with supportive care.
Patient characteristics (n=32) are shown in Table 1. Overall, complete remission (CR) was achieved in 22/31 (71%) evaluable pts.  One patient died on day 26 due to septic shock and was considered non-evaluable for response. Subset analyses revealed CR rates of 89% (8/9), 71% (5/7), and 60% (9/15) in favorable, intermediate and adverse-risk by ELN classification, respectively. In the central analysis cohort, 9/12 (75%) patients achieved CR, and 8/9 (89%) were MRD-negative by flow cytometry. The 90-day survival was 96.9%, 1 patient died within 30 days of septic shock after reinduction. As of 1/22/2020 with median f/u of 7 months, 7/22 CR (32%) pts have relapsed, and 9/22 (41%) CR pts have received an allogeneic stem cell transplant. Overall survival at 1 year is 70.7%.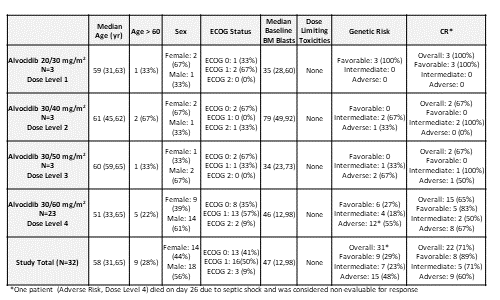 Conclusion
In newly diagnosed AML pts, alvocidib prior to 7+3 induction showed an acceptable safety profile and encouraging clinical activity, particularly in adverse-risk disease. Given clearance of MRD by flow in the majority of pts achieving CR, future trials are indicated to determine if the addition of alvocidib to standard induction chemotherapy increases rates of MRD negative CR and ultimately improves outcomes.
Session topic: 04. Acute myeloid leukemia - Clinical
Keyword(s): AML, Mcl-1, MRD