Abstract: EP550
Type: e-Poster
Background
About 40-50% of older patients (pts) with AML attain complete remission (CR) with induction chemotherapy (IC) but the majority of them eventually relapse. Effective, well-tolerated maintenance treatment (Tx) is needed to reduce risk of relapse and prolong survival for older pts in remission, who are less likely than younger pts to be candidates for hematopoietic stem cell transplant (HSCT). CC-486 is an oral hypomethylating agent that allows for extended dosing schedules (>7 days [d]/cycle) to sustain therapeutic activity. In the international, phase III, randomized, placebo (PBO)-controlled QUAZAR AML-001 trial (NCT01757535), CC-486 maintenance therapy produced significant improvements in overall survival (OS) and relapse-free survival (RFS) vs. PBO  in pts aged ≥55 years (yrs) with AML in first remission following IC. 
Aims
To determine the safety and tolerability of CC-486 maintenance Tx in the QUAZAR AML-001 trial among pt subgroups defined by age at study entry.
Methods
Eligible pts were aged ≥55 yrs; had de novo or secondary AML, intermediate or poor risk cytogenetics, and ECOG PS ≤3; achieved first CR or CR with incomplete hematologic recovery (CRi) after IC ± consolidation; and were not candidates for HSCT. Within 4 mo of CR/CRi, pts were randomized 1:1 to receive CC-486 300mg or PBO once-daily for 14d of repeated 28d Tx cycles. For this analysis, safety was assessed in pts who received ≥1 dose of study drug across three age subgroups (≥55 to <65 yrs, ≥65 to <75 yrs, and ≥75 yrs). Adverse events (AEs) were coded using MedDRA v. 22.0 and graded by NCI-CTCAE v. 4.0.
Results
In all, 469 of 472 enrolled pts (99.4%) received ≥1 dose of study drug and were evaluable for safety (CC-486 n=236; PBO n=233). Median age overall was 68 yrs (range 55–86), and age distribution was similar between the CC-486 and PBO arms: 28% and 29%, respectively, were ages 55 to <65 yrs, 61% of pts in each Tx arm were ages 65 to <75 yrs, and 12% and 10% of pts were ≥75 yrs of age. Between Tx arms, AE rates within each age stratum were similar to rates in the overall study population. The most common AEs (any grade) with CC-486 were GI events, which were more frequent than in the PBO arm across age groups. Within the CC-486 arm, AE rates were generally consistent across age groups, except for constipation, which was >20% more frequent in pts aged ≥75 yrs, and thrombocytopenia, which was ≥20% less frequent in this group (Table). Overall, 13% and 4% of pts in the CC-486 and PBO groups discontinued Tx due to an AE.
In the subgroup of pts aged ≥75 years, median OS was 24.8 mo in the CC-486 arm and 9.9 mo in the PBO arm (hazard ratio [HR] 0.48 [95%CI 0.25, 0.94]; P=0.0281), and median RFS was 10.2 mo vs. 2.3 mo, respectively (HR 0.40 [0.20, 0.79]; P=0.0061).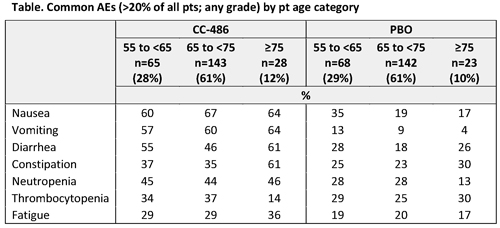 Conclusion
In QUAZAR AML-001, CC-486 was generally well tolerated in all age groups, including in pts aged ≥75 yrs. Rates of individual AEs in the CC-486 arm were similar between age groups. Higher rates of constipation are not unexpected in pts of advanced age; the reduced incidence of thrombocytopenia in pts aged ≥75 yrs compared with the younger age groups warrants further investigation. Significant improvements in OS and RFS with CC-486 in pts aged ≥75 yrs were accompanied by a manageable safety profile.
Session topic: 04. Acute myeloid leukemia - Clinical
Keyword(s): Acute myeloid leukemia, Azacitidine, Elderly, Maintenance