Abstract: EP546
Type: e-Poster
Background

Most AML patients in CR experience a relapse of more resistant disease, and there are many different published intensive salvage treatment options. However, i) comparative data is sparse, ii) results are taken from clinical trials and may not be representative for the real-world situation, and iii) as supportive care improved over the last years, early death rates have decreased and historic results may not reflect the current clinical situation.
Aims
By analyzing the German AML registry of the Study Alliance Leukemia group (SAL), we intended to present a real-world picture of treatment patterns and outcomes in r/r AML patients in Germany today.
Methods

The SAL runs a transregional AML registry in 46 treatment centers across Germany (NCT03188874). All registered non-APL AML patients with sufficient documentation, complete demographic and baseline data, who relapsed after first CR or refractory to the first-line of treatment, and with a minimum follow-up of 8 months were selected (n=1074). Primary refractory disease was defined as: best response not CR/CRi after i) two cycles of SDAC induction or ii) one cycle with SDAC and one cycle of IDAC or HiDAC induction or iii) two cycles of IDAC or HiDAC induction. We analyzed the influence of treatment intensity, salvage regimen, allogeneic stem cell transplantation (allo SCT) on CR, and overall survival (OS).
Results

The median age at r/r disease was 60 years; 54% of patients suffered from relapse and 46% had primary refractory disease.
Of 1074 patients, 190 (18%) did not receive treatment. Of the remaining 884 patients, 82% received intensive 2nd line treatment (n=725) including 42% of patients who proceeded directly to allo SCT without previous re-induction treatment. The allo SCT rate in all intensively treated patients was 70%. The total CR/CRi rate after intensive salvage was 71% including patients proceeding directly to allo SCT. CR/CRi after IDAC and HIDAC regimens ranged between 65% and 88%, but with no significant differences between different regimens. Median OS after intensive treatment was 14 months and 5-year OS 33%. We observed no significant survival differences across IDAC- and HiDAC-based salvage regimens. Primary refractory disease was associated with a considerably longer median OS than relapsed AML (16 vs 9 months, p=0.034), but long-term remission rates were similar (5-year OS 30% vs 24%). The incorporation of allo SCT into the intensive treatment strategy resulted in a 2-fold prolonged median OS (17 vs 9 months, p<0.001) and a significantly higher long-term remission (5-year OS 37% vs 19%; Simon-Makuch estimates).
Non-intensive 2nd line treatment (n=159) comprised of hypomethylating agents (HMA) in 53%, hydroxyurea and BSC in 14%, low-dose cytarabine (LDAC) in 6% and other palliative approaches such as melphalan or low-dose mitoxantrone in 27% of cases. Median OS was only 4 months, but the survival probability was significantly improved by the use of HMA in comparison with other approaches (median OS 6 vs 2 months, p=0.016).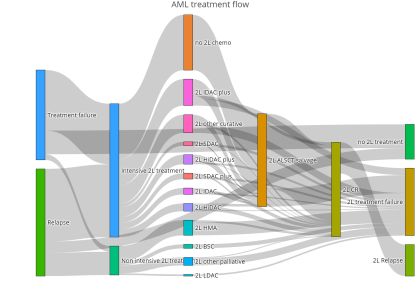 Conclusion

In a real-world setting, intensive cytarabine-based treatment approaches can induce CR rates around 70% and a long-term survival around 37% after allo SCT. Outcomes are similar after various HiDAC- and IDAC-based treatment regimens. Among patients with low-intensity treatment, survival after HMA was superior to other palliative approaches. Our results underline the high medical need in r/r AML. They may serve as reference for novel therapeutic approaches.
Session topic: 04. Acute myeloid leukemia - Clinical
Keyword(s): AML, Relapsed acute myeloid leukemia, Treatment