Abstract: EP545
Type: e-Poster
Background
In newly diagnosed AML or high-risk MDS, primary analysis of the randomized phase 2 BRIGHT AML 1003 trial (data cutoff Jan 2017) showed superior OS for GLAS+LDAC vs LDAC alone. The trial then continued to predefined completion 4 years from randomization of all patients (pts), reached in Mar 2019.
Aims
Herein, we present analyses of OS and complete remission (CR) at the final study completion.
Methods
In BRIGHT AML 1003 (NCT01546038) pts with newly diagnosed AML or high-risk MDS and unsuitable for intensive chemotherapy were randomized 2:1 to GLAS+LDAC (n=88) or LDAC alone (n=44). For these groups, median (range) treatment duration was 83 (3-1575) and 47 (6-239) days; median follow-up for survival 47.6 and 48.1 months; 4 (4.5%) and 1 pt (2.3%) completed ≥4 years' follow-up.
Results
Consistent with the primary findings (OS HR 0.51; 80% CI 0.39, 0.67 p=0.0004), GLAS+LDAC prolonged OS vs LDAC alone (table). Results were consistent in AML pts and cytogenetic risk/disease history subgroups (table), as were analyses by pt characteristics and baseline risk factors (not shown). Survival probability was 39.5% vs 9.5% at 1 year and 18.0% vs 2.4% at 2 years. GLAS+LDAC induced higher CR rates overall (16/88 vs 1/44; RR 8.12, 95% CI 1.05, 62.78, p=0.010) and across subgroups. Notably, fewer pts discontinued GLAS+LDAC due to AEs (38.1% and 46.3%) and there was no increased sepsis or bleeding vs LDAC alone despite longer glasdegib treatment. With GLAS+LDAC, SMO-inhibitor-associated AEs included dysgeusia (25.0%), muscle spasms (22.6%) and alopecia (10.7%), with only 1 pt discontinuing due to dysgeusia.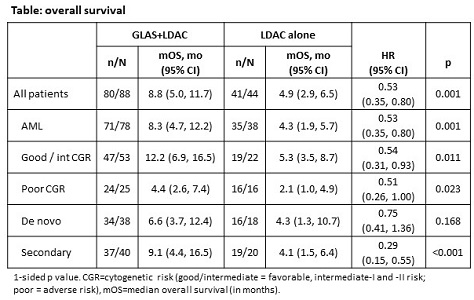 Conclusion
Consistent with primary analyses, GLAS+LDAC continued to have an acceptable safety profile and improved OS vs LDAC alone. HRs were consistent across cytogenetic risk subgroups and support use of GLAS+LDAC in de novo and secondary AML.
Session topic: 04. Acute myeloid leukemia - Clinical
Keyword(s): Acute myeloid leukemia, Clinical trial, Myelodysplasia, Toxicity