Abstract: EP541
Type: e-Poster
Background
We have previously reported that cytarabine/daunorubicin as well cytarabine/idarubicin can be safely combined with crenolanib at the full monotherapy dose (100mg TID) and administered throughout induction, consolidation and maintenance in newly diagnosed FLT3-mutated AML (Walter et al., EHA 2018). 
Aims

To determine the clinical efficacy and long term results of crenolanib combination therapy in newly diagnosed FLT3-mutated AML.
Methods

Twenty-seven newly diagnosed AML patients with FLT3 mutations, aged 18-60 years old enrolled in a phase II study of crenolanib combined with chemotherapy (NCT02283177) were included in this analysis. Patients received 7+3 induction with cytarabine 100 mg/m2 for 7 days and either daunorubicin 90 mg/m2 (n=16) or idarubicin 12 mg/m2 (n=11) for 3 days. Crenolanib 100 mg TID was administered continuously starting 24-48 hours after induction until 72 hours prior to the next chemotherapy cycle. Consolidation could consist of up to four cycles of high-dose cytarabine (HiDAC): 3 g/m2 for < 60 years and 1 g/m2 for 60 years) q12 hours on days 1, 3, and 5 with crenolanib starting 24 hours after the final HiDAC dose in each cycle. Eligible patients proceeded to allogeneic hematopoietic stem cell transplant (HSCT). Maintenance crenolanib at 100mg TID was started after HiDAC or 30-90 days after HSCT for up to 12 cycles. Durability of clinical remissions were documented by routine follow up every 3-4 months (as per institutional practice).
Results

As of February 2020, all patients have completed all protocol therapy (one patient continued crenolanib maintenance for 25 months per patient request). Twenty-three of 27 patients (85%) achieved complete remission, all of whom required only 1 cycle of induction chemotherapy. Three relapses have occurred, all within the first year of treatment and no relapses have occurred in patients who completed at least 1 cycle of crenolanib maintenance. Twenty-one patients remain alive, for an overall survival of 76.8% with a median follow-up of 43.2 months. Of the 23 patients achieving CR, 7 received HiDAC consolidation along with crenolanib but did not receive HSCT. All 7 patients were intermediate risk according to ELN guidelines. Four of these patients carried FLT3-ITD, DNMT3A and NPM1 mutations, and all had high FLT3 allelic burdens. Six of these patients remain in long term remission. While the number of patients is small, we observed similar overall survival in patients who underwent HSCT as compared to those who did not after achieving CR.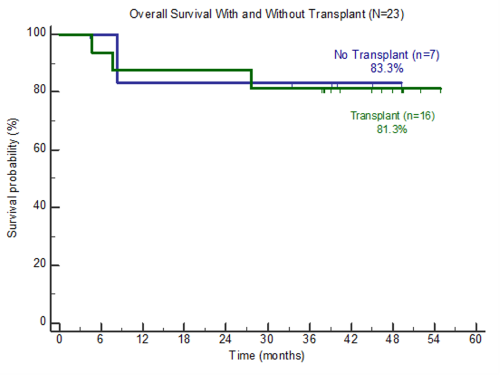 Conclusion

These clinical data suggest that this regimen of crenolanib plus chemotherapy appears to have very high therapeutic efficacy in newly diagnosed FLT3-mutant AML. Median event-free survival (EFS), and cumulative incidence of relapse (CIR) have not
been reached. No relapses have been observed in patients after completing crenolanib maintenance. A phase III randomized multicenter trial has been initiated to compare the efficacy of crenolanib versus midostaurin combined with standard chemotherapy for newly diagnosed patients with FLT3-mutant AML (NCT03258931).
Session topic: 04. Acute myeloid leukemia - Clinical
Keyword(s): Acute myeloid leukemia, Flt3 inhibitor