Abstract: EP540
Type: e-Poster
Background
Ivosidenib (IVO) monotherapy was approved by the FDA for the treatment of mutant isocitrate dehydrogenase 1 (mIDH1) relapsed/refractory (R/R) acute myeloid leukemia (AML) in 2018, and in newly diagnosed patients (pts) ≥75 y of age or pts ineligible for intensive therapies in 2019, based on the results of the open-label AG120-C-001 (NCT02074839) study.
Aims
To evaluate the comparative benefit of IVO, matched pt analyses were conducted using data on mIDH1 R/R AML pts from the AML Study Group (AMLSG) registry (NCT01252485) and a real-world chart review study (RWD) from France, Germany, the UK, and Spain.
Methods
Individual pt data from Arm 1+ of the AG120-C-001 study (n=159) was compared to a historical control (HC), combining individual pt data from the AMLSG registry (n=127) and the RWD (n=148). Treatment with IVO was compared to the most recent therapy received for the HC. Four propensity score–based matching/weighting methods were used (optimal full matching, optimal 1:1 matching, greedy nearest-neighbor 1:1 matching, and inverse probability of treatment weighting [IPTW]). A literature review and data availability led to the inclusion of 8 baseline prognostic factors for estimation of propensity scores (prior hematopoietic stem cell transplant, age, number of prior regimens, de novo vs secondary AML, cytogenetic risk, primary refractory status, relapse-free survival after initial induction chemotherapy, and receipt of prior induction chemotherapy); Eastern Cooperative Oncology Group (ECOG) performance status was included in sensitivity analyses. Balance between populations was assessed pre- and postmatch via comparison of (weighted) standardized differences for each covariate. Time-to-event data were summarized via Kaplan-Meier estimators with 2-sided 95% CIs. Cox regression analysis, using the key prognostic factors as covariates, was applied to estimate hazard ratios (HRs) of overall survival (OS), and the corresponding 95% CI was estimated using the sandwich estimator. Subgroup analyses were also conducted on OS and complete remission (CR) rate, comparing IVO pts, none of whom were eligible for intensive salvage therapies (IC), to the subsets of RWD pts who received IC and nonintensive salvage therapies (non-IC). Updated analyses by IC/non-IC on the full combined cohort (AMLSG registry and RWD pts) are planned.
Results
Before matching/weighting, IVO pts (n=159) had numerically longer OS than HCs (n=275) (median, 8.8 vs 5.4 mo), despite an increased proportion of pts with adverse prognostic factors. In matched/weighted analyses, IVO pts had longer survival than HCs, with HRs ranging from 0.43–0.73 (Figure). The 95% CI upper bounds were all <1, except for one sensitivity analysis. When compared to non-IC RWD pts (n=65), the survival benefit of IVO was more pronounced, with significantly prolonged survival in the unmatched IVO population (n=157) (median 8.8 vs 3.8 mo; unadjusted HR 0.55). Matched results showed a consistent benefit with HRs of 0.26–0.57, and all analyses except one sensitivity analysis had a 95% CI upper bound of <1. IVO OS was slightly worse when compared to IC RWD pts (n=61) (unadjusted median 8.8 vs 10.8 mo; unadjusted HR 1.69). IVO was also associated with an increased likelihood of CR compared to non-IC RWD pts (n=65) (21.7% vs 7.7%; unadjusted odds ratio [OR] 3.32) and a lower likelihood of CR compared to IC RWD pts (n=61) (21.7% vs 47.5%; unadjusted OR 0.31).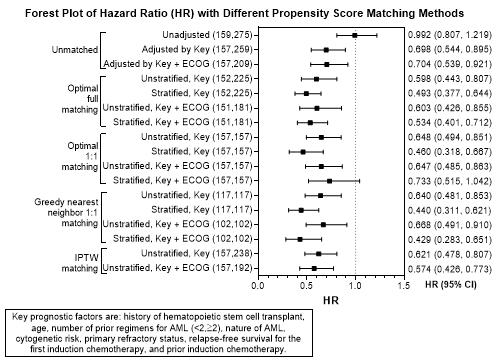 Conclusion
IVO monotherapy may prolong survival vs standard-of-care therapies in mIDH1 R/R AML, particularly in pts unable to receive intensive therapy.
Session topic: 04. Acute myeloid leukemia - Clinical
Keyword(s): Ivosidenib, Relapsed acute myeloid leukemia, Survival