Abstract: EP396
Type: e-Poster
Presentation during EHA25: All e-Poster presentations will be made available on the on-demand Virtual Congress platform as of Friday, June 12 at 08:30 CEST and will be accessible until October 15, 2020.
Background
Patients (pts) with R/R Ph+ ALL and CML LBP have poor outcomes. Inotuzumab ozogamicin (INO) is an anti-CD22 antibody drug conjugate currently approved for R/R ALL. Bosutinib is a second generation BCR-ABL1 tyrosine kinase inhibitor (TKI) approved for all phases of CML, including those with resistance or intolerance to prior therapy. We designed a phase 1/2 study of INO + bosutinib for R/R Ph+ ALL and CML LBP (NCT02311998).
Aims
Primary objective was to determine the safety and the maximum tolerated dose (MTD) of INO + bosutinib, and the secondary objective was to determine the efficacy.
Methods
Pts with R/R Ph+ ALL and CML LBP were included. Pts with T315I mutation were excluded. Pts were required to have adequate organ function (creatinine ≤2 gm/dL, total bilirubin ≤2 mg/dL, ALT and AST ≤3xULN). Bosutinib was dosed once daily starting on cycle 1 day 1, and 3 dose levels were evaluated (300, 400, 500 mg) in a standard 3+3 dose escalation design. INO was given IV weekly during cycle 1 (0.8 mg/m2 day 1; 0.5 mg/m2 day 8; 0.5 mg/m2 day 15). In responding pts, INO was subsequently administered at 1 mg/m2 once every 4 weeks for a total of 6 cycles.
Results
Between June 2015 and December 2019, 18 R/R pts (16 pts with Ph+ ALL, 2 pts with CML LBP) were enrolled. The median age was 62 years (range, 19-74), the median no. of prior therapies was 1 (range, 1-5) and 9 pts had ABL kinase domain mutations at screening. Three pts were treated at dose level 1 (bosutinib 300 mg daily); 6 pts at dose level 2 (bosutinib 400 mg daily); and 9 pts at dose level 3 (bosutinib 500 mg daily). One pt had a DLT at dose level 2 (G3 skin rash), and 2 pts had a DLT at dose level 3 (both G3 skin rash). The first 3 pts at dose level 3 did not receive at least 80% of bosutinib doses during cycle 1 due to issues unrelated to adverse events (AE). As 2/6 DLT evaluable pts at dose level 3 had DLTs thus exceeding the MTD, the dose level 2 was identified as the MTD. Most frequent AE were diarrhea in 50% pts, rash in 50% pts, and nausea in 39% pts. Grade 3 AEs were rash (n=3), reversible ALT elevation (n=1) and hyponatremia (n=1). No pts had veno-occlusive disease. There were no early deaths (<30 days). Pts have received a median of 3 cycles (range 1-8) with a median of 1 cycle to response (range 1-2). Responses are shown in Table 1. Eighty-three percent pts (15/18) achieved CR/CRi. Median time to response was 1 mo (range 0.8-2.1). After a median follow-up of 32 mo, the median overall survival was 15.4 mo and median event-free survival censored at allogeneic stem-cell transplantation (allo-SCT) was 6.1 mo (Fig. 1). Six pts underwent an allo-SCT. 
Table 1. Responses with INO + Bosutinib in R/R Ph+ ALL and CML LBP (N=18)

Response 

n (%)

Overall response rate

15 (83)

   CR

11 (61)

   CRi

4 (22)

Complete cytogenetic response, n/N*

11/16 (69)

MRD negative by FCM

10 (56)

Major molecular response

13 (72)

CMR

8 (44)

* 2 pts had diploid cytogenetics at start of treatment
Fig. 1 OS, and EFS censored at SCT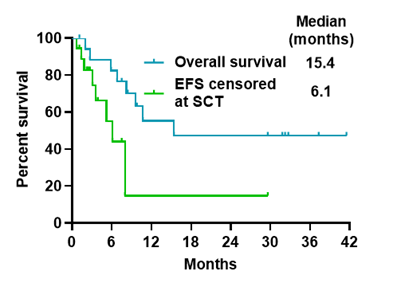 Conclusion
INO + bosutinib is well tolerated and shows promising activity in R/R Ph+ ALL and CML LBP.
Session topic: 02. Acute lymphoblastic leukemia - Clinical
Keyword(s): Acute lymphoblastic leukemia, Chronic myeloid leukemia, Targeted therapy, Tyrosine kinase inhibitor