Abstract: EP394
Type: e-Poster
Background
With the optimal CRS grading system and uses of Tocilizumab and steroids, it seemed high safety for many relapsed or refractory B cell acute lymphoblastic leukemia (B-ALL) to receive chimeric antigen receptor (CAR)-T cell therapy. However, severe CRS were still commonly observed in patients with high leukemia burden and early relapse after transplantation. The JAK1/2 kinase inhibitor ruxolitinib showed a marked reduction in inflammatory plasma cytokines in treating myelofibrosis and GVHD. Importantly, cytokines down regulated by ruxolitinib in patients with myelofibrosis correspond to inflammatory effectors that mediate tissue damage and inflammation in CRS. These are mainly the cytokines IL-6, TNF and IFN-γ.
Aims
To evaluate the efficacy and safety of Ruxolitinib in treating five patients with steroids resistant CRS during CAR T therapy.
Methods
During October 2019 and January 2020, Patients were included in our pilot study when they developed rapidly to severe CRS (≥3) in 4 days after CAR T cell infusion, and Tocilizumab (8mg/kg/dose) and Steroids (2 to 15 mg/kg/d methylprednisolone) could not alleviate the symptoms. ASTCT consensus Grading for CRS was used for evaluating. Ruxolitinib (5mg/kg bid) was given accompanied with steroids. Platelet transfusion was used for thrombocytopenia and guaranteed the continuous use of ruxolitinib.
Results
Five patients were included in this cohort. The median age was 16 (9-19) years old. Two male and three females. Three of them were early relapse (1-4 months) after haploid allogeneic hematopoietic stem cell transplantation (allo-HCT). One of them had chronic GVHD after allo-HCT. One of them was early relapsed after chemotherapy. The median leukemia burden in bone marrow was 56% (18-81.5%). Two of four patients who relapsed after allo-HCT had diffused extramedullary diseases. Donor-derived CAR T cells were used in pre-HCT patients. Two patients received CD19 CAR T cell infusion (1 and 5×106/kg) and 3 received CD22 CAR T cell infusion (1.43, 5 and 6.62×106/kg). After CAR T cell infusion, all of them had fever on day 1, two of them developed grade 3 CRS manifested as fever (≥38.0°C) with hypotension requiring 1 vasopressor, hypoxia requiring high-flow nasal cannula (>6 L/minute) or facemask. The other two patients developed grade 4 CRS manifested as fever (≥38.0°C) with hypotension requiring 2 types of vasopressors and hypoxia requiring CPAP. Tocilizumab (8mg/kg/dose) and steroids (2 to 15 mg/kg/d methylprednisolone) were given, but the symptoms were not alleviated. Ferritin (SF) and cytokines (IL-6, IL-10, sCD25) were markedly increased. All patients received ruxolitinib for 20 (8-30) days. After using ruxolitinib, the levels of SF and cytokines rapidly decreased (Figure 1A), and the symptoms of all patients were relieved in one week. No patients died and all of them achieved complete remission. Acute GVHD was not observed after remission. CAR T cell expansions in vivo were not affected by ruxolitinib (Figure 1B). No adverse effects related to ruxolitinib were observed.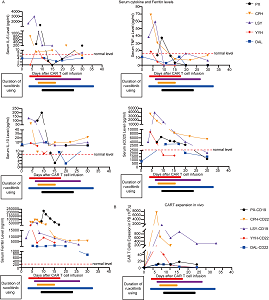 Conclusion
Our study demonstrated the high efficacy and safety of ruxolitinib in treating steroids resistant CRS during CAR T therapy, especially for patients who had early relapse after allo-HCT and high leukemia burden
Session topic: 02. Acute lymphoblastic leukemia - Clinical
Keyword(s): Acute lymphoblastic leukemia